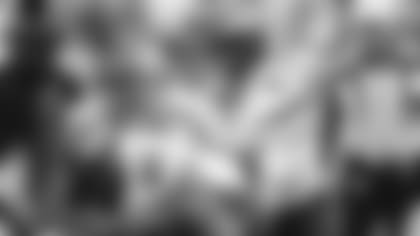 Every NFL game is important, and the Jets' third home game of the season at MetLife Stadium against their longtime rivals from Miami on Sunday is at least triply important. But that's not how the Jets should look at their first AFC East game of the season, lest players start to try to do their jobs and other players' jobs at the same time and lose their concentration on the task at hand.
Just gain inspiration from the incredible atmosphere created by the fans singing the national anthem together again in a new Jets gameday tradition. (This week's anthem will be led by John Brancy.) Then start fast, finish strong, and play nice and loose with minimal mistakes — as they did down the stretches of their superlative comeback wins at Cleveland and Pittsburgh, and this time do it at home to down the Dolphins. Here are four areas of interest for Sunday's game (1 p.m. ET kickoff):
The Big Three
Among the multitude of reasons for the Jets to do well Sunday are the trifecta of important reasons mentioned above. It's a division game, which makes it important enough, but it's also the Jets' first division game of the season and their first chance to end their drought against their three AFC East foes at 0-12 while also showing the Dolphins that, as good as they've started this season at 3-1, they're not invincible. "It's a division game," LB C.J. Mosley said, "and we have to be ready for all they have to offer."
Then there's the Jets' 2-2 record, which again is at .500 and again can increase to a winning record with a victory. It would be the Green & White's first winning mark this late in the season since they started 2017 at 3-2. No better way to demonstrate progress to one and all with a plus-.500 record and a two-game win streak.
Last, as HC Robert Saleh said about his team, 0-2 at MetLife this season, "You want to win your home games, you're supposed to win your home games. And we've got to get our fans in the stadium cheering loud, but we've also got to give them a reason to cheer. So we're going to keep plugging away, take one play at a time and focus on the moment."
The Tyreek Bowl
The absence of starting QB Tua Tagovailoa due to concussion doesn't figure to slow down one of this game's biggest names in WR Tyreek Hill. Fans recall the offseason trade talk that involved shipping the dangerous Hill from KC to either the Jets or the Dolphins. As Hill said this week about wearing green and white, "It was very close to happening."
He instead chose aqua and coral while the Jets improved their WR corps with the drafting of WR Garrett Wilson 10th overall and the fortification of their secondary with the signings of veterans in CB D.J. Reed and S Jordan Whitehead and the fourth overall selection of CB Sauce Gardner, tied for fifth in the NFL with five passes defensed and eagerly seeking his first takeaway.
It could come against Teddy Bridgewater, but Teddy B is one of the NFL's very best No. 2 QBs. And he's already worked well with Hill, coming into the Thursday night game at Cincinnati when Tagovailoa was injured and completing six passes to Hill for 109 yards, including a 64-yard down-the-middle go-route. And Hill leads the NFL with 477 receiving yards.
Two-Minute Magic
The Jets have found that two-minute magic. With Zach Wilson's cool, calm direction of the their 65-yard drive to rookie Breece Hall's go-ahead TD with 16 seconds left at Pittsburgh, the Green & White have scored 40 points in the last two minutes of first and second halves this season. That's the second-most points in two-minute drills through four games in the last 25 NFL seasons, trailing only Las Vegas' 48 points in 2020.
Wilson should be more comfortable with his skill players in start No. 2, and his line should continue jelling, either with Alijah Vera-Tucker at LT or with Duane Brown (shoulder) getting the nod at LT and AVT returning to RG. And that could lead to some more points in those two-minute periods, with the Dolphins displaying their vulnerability through the air (31st in passing yards/game and in yards/pass play, 30th in allowing 11 completions of 25+ yards).
"One thing I'll say about this group is it's got no quit in them," Saleh said. "They play their absolute tails off and for 60 minutes the opponent's going to get everything we've got." That apparently includes those precious four minutes at the end of both halves.
The Injury Situations
The Jets have had some injury woes this season with Zach Wilson missing the first three games as he rehabbed his knee and left tackle and even right tackle coming down with injuries that have resulted in the OL being shuffled almost every week. On defense, LB Quincy Williams could miss his second game with a high ankle sprain.
But the Jets' injury reports have been compact compared to previous years with no more than seven players listed on any practice day and just five checking in with injuries this week.
The Dolphins, on the other hand, are coming into this game with hospital wing of walking wounded — 15 players listed with injuries, topped by Tagovailoa's concussion/back/ankle that will sideline him Sunday. Also, reports were the 'Fins could be without their top two corners for the game. Xavien Howard (groin) hasn't practiced this week and is listed as "day to day" by HC Mike McDaniel, and Byron Jones (Achilles) won't come off the PUP list for this game. Other starters who were DNPs this week were WR Jaylen Waddle and LT Terron Armstead, and starting S Brandon Jones (chest) has been limited.