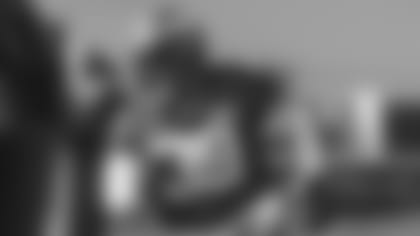 During the opening weeks of the NFL season, the Jets' three losses have primarily been a result of inconsistent play, injuries and untimely mistakes. According to DL Steve McLendon, however, the team's problems are a lack of execution and a failure to play smart.
"For us, we just have to execute better," said McLendon, an 11-year NFL veteran. "That's one of the biggest things. … I feel like we're a really good team, we're just not executing. We're playing hard and we're playing fast, but I just don't think we're playing smart enough right now as a team. We need to play complementary football because that's what's going to help us win."
He added: "At this point right now, there aren't many words that need to be said. You need to let your pads do the talking. The action has to be on the field now. It's not in the talking anymore. It's line up and win, one down at a time."
The Green & White has struggled on both sides of the ball. Offensively, the Jets are ranked in the bottom five in multiple categories including yards per game (32nd), third-down efficiency (31st) and points per game (32nd). Defensively, the unit has gotten off to slow starts in each game, leaving the team with big deficits.
But even with the three-game losing streak, McLendon remains hopeful the team can adjust and be smarter and more consistent.
"I singularly believe in every guy in here," McLendon said. "Like I told the guys, don't hang your head low. It's not like we go out there and want to lose. We go out there and play extremely hard and extremely fast. Now, we just have to go out and play extremely smart, that's it. This game is always going to be the exact same. Even though it changes a little, playing fast, hard and smart are the only things you have to do to succeed. Right now, we have to execute and that's playing smart."
The Jets will little time to prepare for the Denver Broncos (0-3) on Thursday night at MetLife Stadium. There's still time for the Jets to set things right and McLendon knows his leadership will be critical.
"My mindset will never change, it will absolutely never change," McLendon said. "I wake up every morning with the mindset of getting better and trying to win a championship. Whether it's today, tomorrow, or whatever it is. My mindset cannot change. I feel like once my mind set changes, everything and everyone else is going to follow. That's one thing about being a leader on a team. If they see you drop, then they feel like it's OK. So, I don't look at anything on the outside. All I do is stay focused on us, stay driven inside and understand that we have been blessed with a great opportunity."