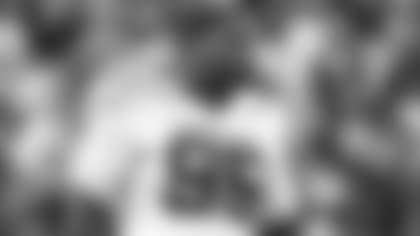 With the Jets' first AFC East matchup of the season this Sunday, against the Miami Dolphins, DL Quinnen Williams is not thinking about this game any differently than the rest.
"It's important to get a win each and every week," Williams said. "It's not looking at it as this one game. Every single game we have to communicate as a team, communicate as a defense, and dominate every single time. We want to win every single game and dominate every time we step on the field."
The communications were better last week in Pittsburgh where the defense had 3 sacks and 4 interceptions. Williams, who had 6 tackles, 2 quarterback hits and 1 sack against the Steelers, said that approach has carried over into this week of practice.
"Mostly we spoke about just communicating, being consistent every single down, dominating our one-on-ones, and doing our job to the best of our abilities. If we do all those things, I think we could be a great defense."
Williams, who leads the Jets in sacks with 2.5 and is ranked second in quarterback hits with 6, has been playing at an elite level only four weeks into the season.
"As I've said, he's in the best shape of his life," HC Robert Saleh said of Williams. "He's playing at a really high level. You try to one-on-one block and he's absolutely destroying offensive linemen in front of him. It's been fun to watch him play, and I'm really excited to see him continue to stay fresh, take care of his body, and continue to get better as the year goes."
Even with the high remarks from Saleh and leading all Jets defenders with an 84.8 grade, according to Pro Football Focus, Williams is always looking to what he can improve on to help his teammates.
"I don't really look at it like that, I really look at it as like the different things I can better at," said Williams. "I tend to skip over the good plays and not really dwell and focus on the good plays, but really dwell and focus on the bad plays. I feel like I haven't gotten to where I want to be, and I feel like I have more in me, more I want to accomplish, and more I just can do to help us win football games."
Even though the Dolphins share the division lead with the Bills, Miami will be missing its starting quarterback in Tua Tagovailoa due to a concussion, Williams knows this game still comes down to how the defense will execute.
"Every single week these quarterbacks in the NFL are great," he said. "I know Tua [Tagovailoa] is not playing but Teddy Bridgewater has been in the NFL a long time and is super experienced and a great quarterback in himself. So, every single week, you have to affect the quarterback to win any football game.
"Winning the game is executing and communicating. Trying to be the best defense we can be, to try to be the best players individually so we can be to help win the game."