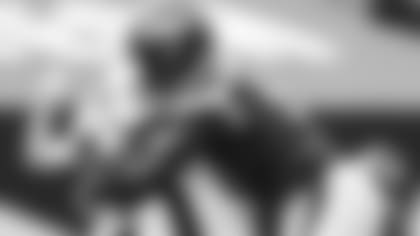 With apologies to Monty Python ... Jets defensive lineman John Franklin-Myers (is) was a Lumberjack, and he's OK with that.
After playing defensive end (plus running back and tight end) for a Greenville High School team that went 0-40 ("you got to say we played in Dallas!"), Franklin-Myers had few options. No big-time colleges came calling, so he went to Stephen F. Austin University in Nacogdoches, Tex. -- a school with the Lumberjacks nickname.
"It's the whole school spirit, the whole environment embraces the lumberjack culture in the pine woods, chopping wood is real," he told The Official Jets Podcast. "You get there and they give you an axe handle. It's kind of cool. It's supercool. I have nothing negative to say about the whole environment."
Franklin-Myers was born in Los Angeles but moved to the Dallas area as a youngster. In college, he took his football seriously, but he took his studies -- a major in kinesiology and a minor in psychology -- more seriously. In 2018 he was named a National Football Foundation Hampshire Honor Society Member after maintaining a 3.2 GPA. He said that he was inspired by a strong, demanding relationship with his grandfather.
"Honestly, it was my grandpa," Franklin-Myers said. "At school, people talked about missing a class, being tardy. I know nothing about that, my grandpa wasn't having any of that. I didn't make Bs. When I was younger and got done with school at 3p.m., I'd be at the table [working] until 7 p.m. I had the best handwriting. In college I knew that football stuff, coming from a small school, was going to be hard. If I'm going to do something I put my all into it."
Of that there can be little doubt.
JFM had a homecoming, of sorts, when the Los Angeles Rams selected him in the fourth round of the 2018 NFL Draft. And because the initial call from the Rams registered on his phone as an unknown caller from the Atlanta area, Franklin-Myers just let it go.
"I looked at my phone, and it showed a call from Atlanta, so I didn't pick it up," he said. "I said 'let me just see who it was.' He returned the call and it was the GM from the Rams! "Getting drafted was a blessing, especially to go to a place where you grew up. I hadn't seen my brother in 10 years then, or some family since I was super young," JFM said. "You know, everyone wants to go to LA. It was a good situation, but obviously it didn't work out."
After a strong rookie season in which he played in all 16 regular-season games and had 17 pressures, 11 hurries, 4 knockdowns and 2 sacks over 301 defensive snaps, he ended the season in the Super Bowl LIII, sacking and stripping the ball from Patriots QB Tom Brady. But the euphoria from a dream rookie campaign in the NFL came to an abrupt and unexpected end when he was cut by the Rams just before the start of the 2019 season.
The Jets savvy new GM, Joe Douglas, plucked JFM off the waiver wire, and even though he spent last season sidelined with a groin injury, the Jets waited and hoped he would make an impact in 2020.
"When you're a rookie, there's so much thrown at you," Franklin-Myers, 24, said. "I got to learn from Ndamukong Suh, Aaron Donald and other guys. Being on a team as a rookie and starting on third-down packages you can't make a mistake. I went to the Super Bowl, the whole experience was a lot for a rookie but I think I handled the situation well. Both those guys mentored me." Now, he added, he is mentoring a pair of young Jets linemen in Jabari Zuinga and Bryce Huff.
Franklin-Myers has played his way into a prominent role on the Jets' defensive line. He notched his first sack with the Green & White against Arizona last week, and led the team with 6 quarterback hits over four games (he did not play in the season opener at Buffalo).
"Here I am, coming from Rams after getting the chance to be in culture where I learned what it takes to win," Franklin-Myers said. "I'm taking those things and here I am talking to my teammates. People don't know the extra stuff I did to get a leg up on the competition. I'll do whatever it takes to help this team win. I appreciate the opportunity they gave me, claiming me off waivers. I sat out [last year] being injured, but they were patient with me. They showed me they cared about what I had going on. I owe them."
See the Top Images of the Jets Defense During Week 5