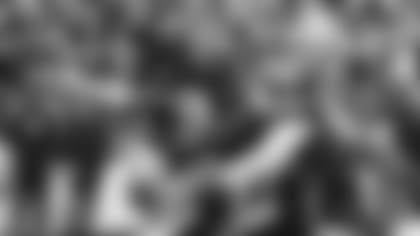 Defensive lineman Folorunso Fatukasi celebrated a special personal moment in the Jets' 16-10 victory over the Steelers last Sunday, recording the first sack of his two-year professional career.
"It's almost like a blur," Fatukasi said. "All I remember was rushing against [Maurkice] Pouncey and I was able to come off rushing up against him, and I saw the quarterback flush out. So, I went in as hard and as fast as I could, and I was able to get him down. In my head I was like, 'I just got the sack. I just got the sack, my first sack!' I was hyped.' "
In 13 games this season, the 6-4, 318-pound lineman has recorded 13 tackles and played a critical role along the line in helping to elevate the Jets' defensive unit to No. 2 over all against the run. But recording his first career sack meant something a little more special.
"It felt good to be able to get my first pro sack," Fatukasi said. "I'm very thankful for it and very grateful for it, but obviously I'm going to work to continue to get some more. It was a great feeling."
Fatukasi was inactive in his rookie season, taking his reps at practice and diving into the playbook under the guidance of the veteran DL Steve McLendon. Fatukaski, 24, was able to contribute more to a heavy rotation under first-year defensive line coach Andre Carter. After a victory over the Steelers that pushed the Jets record to 5-3 this season at MetLife Stadium, the Jets will head to Buffalo for Sunday's final regular season game.
"I think the guys do a very good job of chipping at wood regardless of the adversities that we face," Fatukasi said. "Just to remember it and remember that we have to get back to work and face these things and stay on top of that. I think the guys are just really good with persevering through tough times."
He added: "I'm just thankful to be able to have the opportunity to show that I can contribute. That's the biggest thing that matters to me most, is that I'm playing and I'm showing that I'm able to do some good things."