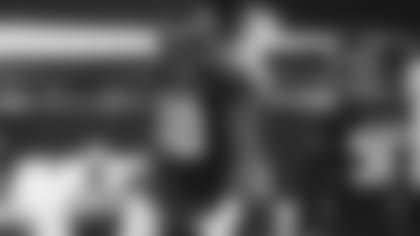 After a winless first quarter of the season, change was in the air at the Atlantic Health Jets Training Center and it wasn't from the autumn leaves.
"I've been talking to a lot of those guys through the whole thing, from the start of it," head coach Adam Gase said Thursday. "I will say this. I don't remember ever having as many guys coming to me making suggestions, talking through ways to get things fixed, how can we address certain things. The communication has been outstanding from our players."
That led Gase to change things up in his practice schedule. Instead of the usual special-teams-warmups-individuals routine to start, he's opened practices this week with some highly competitive practice periods. Ones-against-ones kind of periods.
The players say they like it.
"It's good," S Marcus Maye said. "First O vs. First D type of stuff right out of the gate. That's how it is when you hit the ground on Sundays, so definitely a good change for us."
"Not recommended by sports science," Gase said, half-joking, "but at this point we're going to try anything we can to get our guys practicing the way we need them to practice day in and day out."
Other than practice structure, Gase and his staff emphasized red zone execution for the offense and then for the defense, "Let's play a cleaner game." As in no more 60 minutes of football with six personal fouls on defense, as happened in Game 4 against Denver.
In fact, the Jets D has been flagged for 10 personal fouls this season. Double-digit PFs for a season is not unheard of in the NFL. The Jets defense had 14 majors called against it in 2002, '12 and '17 and had 15 majors marked off against it in 2018. But of course this year's pace is well above that. And six in one game — three roughing-the-passers, two unnecessary roughness calls and one facemask — is easily the most in a game in the last 20 years.
Again, the players didn't have to be told twice and like the changes being discussed by Gase and defensive coordinator Gregg Williams and among themselves.
Gase, in fact, spoke to the defense about the penalties.
"I think the biggest thing is you double down on the awareness level for sure and on getting the right guys in there," the coach said. "If we can't do it the right way, then we need to get different guys in there."
"I'm not going to go into detail," linebacker Jordan Jenkins said of Gase's message, "but it was a good talk. He talked to everybody. It ain't going to keep happening."
Likewise, Williams made some key points to his unit.
"Gregg likes to play hard," Jenkins said. "But he also says, 'Don't hurt the team. Be smart about it. Don't do dumb stuff.' That's what happened. We did dumb stuff. He's a high energy guy but he wants us to be smart, don't take late hits, don't hit the quarterback late and don't hit him low."
It's not an easy assignment for the defense going up against elusive QB Kyler Murray and a WR who's burned the Jets a few times in the past in DeAndre Hopkins. But the Cardinals (2-2) aren't invincible, and the Jets know the tightrope they have to walk now, coming "out of the chute" fast, just as in this week's practices, playing hard and yet playing smart.
As Gase reminded his players: "Let's take it from the practice field to the game."
"There's no room for error right now," Maye said. "We're all scratching and clawing to get a win, so every detail is something we're paying attention to. There's no room for error throughout the week. We've been practicing hard so we'll be ready on Sunday."