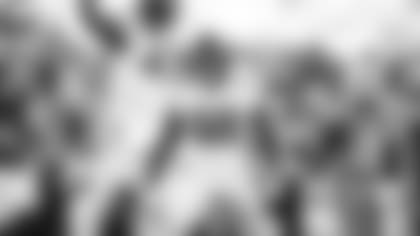 The Jets defense had its usual array of big names and familiar forces at work in Denver on Sunday, plus at least one player who ad a whole host of its big names, some familiar forces and at least one who might need a little introduction to his teammates and fans who might have forgotten about him.
And once they got those silly little two points that came as part of Breece Hall's TD run early in the third quarter, edge-rushing LB Jermaine Johnson said, "It was like a race to the quarterback."
The Jets opened their lead from 15-13 after Breece Hall's 72-yard TD dash early in the third quarter to 24-13, then needed some of their trademark plays not to make things close but to put things away.
The one player we know about is LB Quincy Williams and the one we might recall from his starting CB role a few years back was Bryce Hall. They combined on the strip-sack of dangerous but contained Broncos QB Russell Wilson and the resulting 39-yard fumble return to give the Jets that 31-21 advantage with just 29 seconds to play.
Williams was having another one of his highly productive games — nine tackles, two sacks, three QB hits and a forced fumble. Two of those tackles, both sacks, two of the hits and the FF all came in a span of four plays as the Broncos tried to get close enough for a tying field goal. Quincy didn't let them.
"I'm the fastest linebacker in the league ... and I say that very confidently and humbly," Williams said. He blitzed from the Jets' right side to take Wilson down for 8 yards back to his 21 early in that late drive. Two plays later, he was being called on again, to roar off left end and wreak havoc.
"Trusting the coaches, as soon as that play gets called, I knew it was a sack. I called it Sack 3-Hot, you feel me?" he said. "Coach called the play trusting my teammates were going to do their job and them trusting me that I'm going to do my job."
But his job only produced the strip-from-behind of Wilson, the defense's first sack-fumble of the season. Somebody still had to stop the ball from skittering out of bounds, or even more, to pick it up and run the other way with it for a decisive score.
That player was Hall. With both D.J. Reed (concussion) and Brandin Echols (hamstring) inactive, Saleh, DC Jeff Ulbrich and the coaching staff had a plan to return Bryce to the starting lineup. That wasn't a stretch, since he started 24 games his first two seasons with the Jets. But '22 and this year, he had no starts, seven games and few defensive snaps to speak of ... until Sunday a mile high.
"Even if it was a backseat role, I was just happy," Hall said. "I just continue to chug along. I love Sauce [Gardner] and D.J. They're my guys. I try to learn so much from them. And I just feel if you're faithful, somehow, someway, you'll get opportunities and everything will work out."
As humble as Hall sounded after the game, he was quietly confident when Ulbrich called on him to speak to the unit at Saturday night.
"He said he's started a lot of games in the league and is anybody wondering about anything?" Gardner recounted, quoting his teammate. " 'You don't have to wonder. I'm going to do what I've got to do. I got you all. I'm going to give everything I've got and you're going to like the results.' We all started clapping. We got fired up."
Hall also reportedly predicted that the defense would grab four takeaways and that he was going to get two interceptions. That had worked out somewhat with the Jets' two TAs to that point, and while Hall had no picks, he had four solo tackles.
Then along came the strip.
"It was crazy," Hall said. "Russell, he's a scrambler so I anticipated him getting out of the pocket. And I just saw Quincy make a heck of a play and I saw the ball on the ground. So I ran and scooped it up, and I was like 'OK, I see you, God, this is a really cool moment.' I probably should've took a knee, but it's all good."
More than good to Gardner and the Jets, it was essential to secure the victory.
"I told him when he scored, man, putting points on the board, that's better than two picks to me," Sauce said. "I told him, you really changed the game, you really made it easier for the offense.' So I'm proud of him."
The scoop-and-score was so many things in Jets history: the first fumble-return TD since Jamal Adams in 2019 vs. the Giants, the first FR TD on the road since Arthur Maulet on special teams at the Patriots earlier that year, the first defensive FR TD since Muhammad Wilkerson took, yes, a Russell Wilson fumble 21 yards at Seattle in 2012. And it was the first fumble-return score to decide win a Jets game since Shaun Ellis in 2008 at home against the Bills.
But as important as all those historical milestones are, the greatest importance of the Williams/Hall collaboration was that it validated the day of defense in Denver. The Jets' modus operandi early this season was to endure an up-and-down first half, drop the hammer in the second half, but never be able to fully utilize its fearsome weapons because they were always trailing.
But on this day, C.J. Mosley was everywhere with his leadership and 13 tackles. Al Woods provided the only really productive pressure of the first half when he barged into the end zone, forcing Wilson to unload a pass ... to no one. For the second straight week, the defense supplied the team a jumpstart penalty-in-the-end-zone safety.
After zero sacks and two QB hits in the first half, the Jets got to lay the wood on R.Wilson with five more hits and all four sacks. Jermaine Johnson had one sack and almost another when he forced Wilson to fumble out of bounds. Bryce Huff added a sack and two more hits.
And the Broncos went into a second-half death spiral. Before their late red zone touchdown to make it 23-20, they went five series for minus-8 yards of offense, four 3-and-out punts and another fumble recovered by Quinton Jefferson.
"To be quite honest, I didn't really know anything about the stats of the game," Johnson said. "I was just trying to play with violence and dominance, make the D-line look good, make my brothers look good, because we really just lean on each other for everything. Coach challenged us at the beginning of this game, and we just challenged ourselves, both the offensive and defensive lines.
"Both sides showed up today, special teams included. It was a good complementary football game. It was dope."