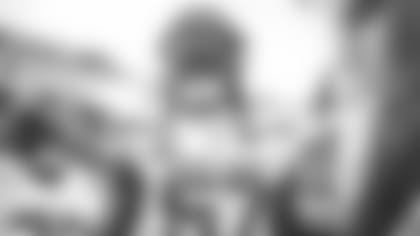 After the first eight games of the 2023 season, the Jets defense ranks No. 3 in passing yards and touchdowns allowed after limiting several of the NFL's elite quarterbacks Patrick Mahomes, Josh Allen, Jalen Hurts and, most recently, Justin Herbert.
This Sunday night, the Green & White plans to keep its foot on the gas in a game against Raiders rookie QB Aidan O'Connell, who will make his third career start.
"Our mentality is to go in there and dominate, no matter who the opponent is," captain and linebacker C.J. Mosley said. "No matter who the quarterback is or what level they are at or what their record is, we have the same mentality. We can't let our play change based on who we are going against. Whether it is the Super Bowl winning quarterback or the league MVP quarterback or first-year starting quarterback, we are going to treat them the same way. We are going to play our style of football and hopefully he has a long day."
Prior to the Raiders' Week 9 win over the Giants, Las Vegas parted ways with head coach Josh McDaniel and general manager Dave Ziegler. The Silver and Black elevated linebackers coach Antonio Pierce to interim coach and named O'Connell the starting quarterback over Jimmy Garoppolo, who was signed in the offseason.
In their first game as a head coach and quarterback duo, Pierce and O'Connell guided the Raiders to a 30-6 victory. O'Connell completed 64% of his passes for 209 yards and no touchdowns or interceptions.
In 3 appearances (2 starts), O'Connell, a fourth-round selection in April's 2023 NFL Draft out of Purdue, has thrown for 522 yards, 1 touchdown and 2 interceptions.
"He's a guy that doesn't look like a rookie by any means," DC Jeff Ulbrich said. "His football intelligence was way more so than most rookies, and that absolutely shows on tape. He gets through his progressions fast, he delivers the ball accurately, and he's little bit of crafty, sneaky athleticism to extend plays and move around, so it's going to be a great challenge."
Since the Green & White's Week 7 bye, turnovers have been hard to come by. Over the first seven games, the Jets went 3-1 in games in which they won the turnover battle. Over the last two weeks, they have failed to produce a takeaway and are 1-1. Ahead of Sunday night, they have made takeaways a point of emphasis against the first-year starter.
"They are something that we talk about every day," Mosley said. "Turnovers and finding the ball and creating plays for our offense to get the ball back in short distances. And this week we are working on that craft punching at the ball at practice and working ball drills. Our goal is to lead with turnovers."
O'Connell is 1-1 as a starter and has the benefit of being able to lean on All-Pro RB Josh Jacobs. Jacobs led the league with 1,653 yards on the ground last season and ranks No. 10 this season with 506 yards, No. 1 in attempts with 159 and has found the endzone 5 times.
Last week, Jacobs had a season-high 26 carries, 98 rush yards and 2 rush TD. Statistically, the Jets have a bottom-third defense against the run, but have only allowed two ball carriers to eclipse the century mark – Saquon Barkley and Isaiah Pacheco.
This week, the Jets will have to get what Ulbrich described as "population to the ball."
"He is tough, he is violent, and he loves physicality," Ulbrich said of Jacobs. "He loves contact. He is not that back that's looking to run out of bounds, he is not that back that's looking to dance around. He gets vertical, and he gets vertical now. Violent stiff arm. A really good running back."
Mosley added: "He is going to run strong, and he is going to run through the holes. So, for us just got to make sure we gang tackle."