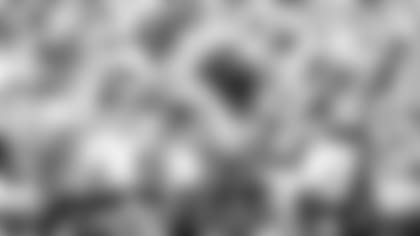 It was not a pretty day in J-Ville for the Jets' defense, which yielded 503 yards, 388 of it and two touchdowns on Blake Bortles pass completions, in their 31-12 loss to the Jaguars today. And the showing, despite some promising moments here and there, had many Green & White defenders scratching their heads and searching their hearts.
"In the beginning, we had a lot of good third-down situations for the defense," DL Leonard Williams said, "and somehow we let them off and let them get the first down. It's hard when your defense is on the field for so long and especially tough when we are shooting ourselves in the foot."
"We've just got to regroup," said LB Darron Lee. How is that done? "Doing more on your end," Lee replied. "So I'm just going to find a way to do more on my end."
DL Nathan Shepherd had an interesting rookie take, saying the Jets need to attack opponents "with a little bit of humility."
"Personally, we need to ask ourselves some tough questions and nothing is going to come easy on Sundays," Shepherd said. "That's something the guys will have to answer for themselves and it's nothing anyone else can tell you because if you're not going to believe it and not going to ask these tough questions, there will be no change."
It seems strange to say that there were highlights in the defensive darkness of this game, but some individual and team moments did show through.
DL Henry Anderson had a strong game in the trenches. He upped his team-leading sack total to 2.5 when he took down Bortles on third down and forced Jacksonville to settle for its first field goal in the opening quarter. Then Anderson swatted down three Bortles passes behind the line of scrimmage, joining Kony Ealy, who deflected four Bortles passes in last year's home win over the Jaguars, as the only Jets D-linemen with three-plus PDs behind the LOS in the last 15 seasons.
In the second half, the defense played a little better and LB Avery Williamson continued on his roll. He deflected the pass intercepted by Darryl Roberts that led to the Jets' first points on a Jason Myers field goal, then ripped the ball out of T.J. Yeldon's grip that Trumaine Johnson returned to the Jaguars 5 to set up the Green & White's only touchdown.
Buster Skrine added a late strip and recovery after a Dede Westbrook reception that took the ball away from the home team at the visitors' 16.
After no takeaways at Cleveland, and with no turnovers by the offense, the Jets had only the 10th game in their history with a plus-3 turnover margin or better in a defeat and the first since the 2004 loss at St. Louis.
But the highlights couldn't overcome the 16-0 first-half deficit and couldn't get the deficit closer than 25-12 in the final frame. And the Jets' defenders are facing another long week before they suit up again for the Broncos at home a week from today.
"It's really frustrating and I see the potential in this team and I still believe in these guys and it's really hard," said Williams, who got his first sack of the season in the first half. "At the beginning of the season we started off really fast and strong and with a lot of great energy, passion and fire. I'm not saying we lost that, but three straight losses could affect that a little bit. Now we're going back home and I think if we get this next game, we could pick that up a bit more."