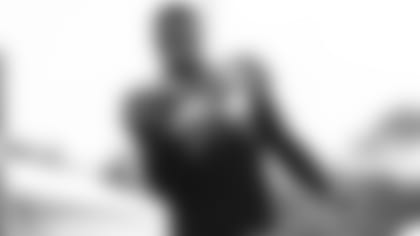 New Jets defensive end Jacob Martin feels like he's been miscategorized throughout his career as a situational pass rusher.
"I don't like that term because I'm a total football player," Martin said. "I can do anything that I'm asked to do. I've played all over the place. I've played stack linebacker, I've played on the edge, I've played outside linebacker, I've played true defensive end. I've set big edges, I've made big plays in big games. I don't like that term. I'm a football player. I'm the total package for sure."
Martin, 26, is coming into his own. After starting 1 game in his first three NFL seasons, he started 14 games with Houston in 2021 and set career highs in sacks (4.0), tackles for loss (5), pass defenses (3), and tackles (23). His two forced fumbles tied his career high.
His numbers may not pop off page, but there's an interesting figure beneath the surface. Martin's 32 QB hurries last season, 12 more than his previous best in 2019, tied for 23rd among edge rushers according to Pro Football Focus. It's more than a handful of pass rushers with double-digit sacks including T.J. Watt, who led the league in sacks last season.
"I'm really blessed to be here, to be given the opportunity to play defensive end," Martin said. "I've played true defensive end my whole career from high school through college and I dominated competition. So, there's nothing new for me here. To have that opportunity to put my hand in the ground and get nasty with offensive tackles around the league."
Martin, who's aiming to play between 247 and 252 pounds, has been mixing in with the first team throughout training camp, often lining up against RT Mekhi Becton, who weighs about 100 pounds more than him. But that doesn't faze the former sixth-round pick out of Temple.
"For me, a tackle is a tackle," Martin said. "Mekhi is very talented in himself, but I believe in my skills and ability to beat anybody in this league. So, just continue to work and grind with those guys up front makes me a better player, makes him a better player, allows me to try different moves in certain situations, allows me to grow as a pass rusher, to grow as a defensive end in this league. I think that's awesome."
HC Robert Saleh believes Martin, whose brother, Josh, played with the Jets from 2016-18, is a four-down player.
"Really excited about Jacob and what he brings just as a football player, not just a pass rusher," he said. "His special teams value, his ability to do multiple things, the role that we think we can carve out for him, he is a really cool football player. He stands for all the right things. Couldn't be happier that he's here."
So how does Martin break the stigma of a situational pass rusher in 2022?
"I'm here," he said. "I'm getting the opportunity to play defensive end. I think that allows me to do that for sure."