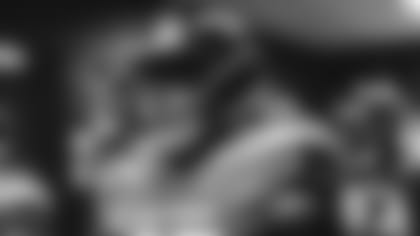 After rupturing an Achilles tendon last year during camp and a year of intense rehab, defensive end Carl Lawson has been scheduled to return to live-game action in the Jets' second preseason game, at MetLife Stadium next Monday against Atlanta.
"I'm excited just to play the season and just to go ball out," Lawson said. "That's what I train for. That is what I went through rehab for, to go out there and play, compete, play good football, meaningful football, great football. I am saying that is what is my goal."
Lawson missed all last season after registering 20 sacks in his first four seasons with Cincinnati. The veteran pass rusher has gotten back in prime shape through a patient and detail-oriented rehab process. Focused on a balanced schedule, he has listened intently to his body to keep a steady understanding of when to push and when to scale back.
"I am getting more and more comfortable," Lawson said. "But not where I want to be. I have had to take a few steps back to go forward a couple of times. And you know, I have had to tell myself, that is O.K."
With a full-time commitment, Lawson has also put in extra work in the weight room, in team meetings and on the practice field. He is reluctant to skip any activity they could help him dial up his play on the field. After practice on Monday, he did conditioning with Jermaine Johnson and Bryce Huff.
"I am just to keep getting better each day," Lawson said. "Just trying to improve on what I need to improve on. Just take it from the meeting rooms to the field. … Going through the same process again until I keep getting better and better. Until I get to where I want to go."
Lawson's hard work has been on display at camp. While listening to his body, he has shown off his powerful pass rush and non-stop pursuit skills. Lawson totaled a career-high 32 QB hits in 2020 and has replicated that in practice this year, setting up residence in the offensive backfield.
"He doesn't have a stop button," Pro Bowl MLB C.J. Mosley said. "In practice, after practice, you can see him working on something in a weight room, always getting after it. He is just a guy that does not have a stop button … He is not going to stop whether he is blocked or whether the ball is 50 yards the other way."
Before the preseason contest, the Jets host the Falcons for two joint practices, Thursday and Friday. Lawson was injured in a joint practice with Green Bay last year and will use the joint practice sessions at the end of the week to complete his final preparations for his long return from injury.
"I think we get a lot out of them," Lawson said about joint practices. "Just the competitive spirit. Getting ready for the game is a great challenge and a great opportunity. … It would be good to get some snaps Get some reps out there, so I can get some actual game film to work off and see what I need to improve on."