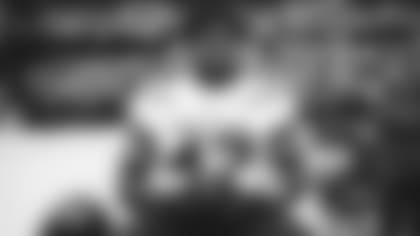 Despite playing the 9th most defensive snaps among the Jets D-Linemen this season, DE Bryce Huff had a tremendous impact on the pass rush registering career-highs in sacks, pressures and QB hits.
"I feel like I had a solid year," Huff said. "Definitely took advantage of the opportunities that I got, and I just did what I could to help the team win."
Huff, 24, signed with the Jets as an undrafted free agent in May 2020 out of Memphis and carved out an important role in the pass rush rotation this season. He flashed his explosiveness and quickness off the line of scrimmage – especially on 3rd and 4th down.
A healthy scratch the first three weeks, Huff was activated in Week 4 and played in the remaining 14 games registering 16 pressures, 3.5 sacks and 10 QB hits.
In his second season playing under HC Robert Saleh and DC Jeff Ulbrich, Huff displayed comfort in the scheme.
"I feel like our second year in the in this scheme, we all kind of knew what we were going into," Huff said. "We had a good sense of our routine throughout the week, just going into practice and really attacking our individual drills going out there and attacking team periods and really transferring all that to gameday and coming up with energy and just executing."
Throughout the season, Huff had a knack for timely rushes. In Week 8 against the Buffalo Bills with the Jets leading 20-17 and 1:17 remaining, Huff came off the edge and strip sacked QB Josh Allen. It left the Bills facing a 3rd and 21 that helped seal the upset victory.
Huff averaged a QB hit every 19.1 snaps which ranked first in the league, and according to Pro Football Focus, had a 28% pass rush win rate that led all defenders (min. 130 snaps).
"I pretty much just stayed locked in throughout the entire year," Huff said. "I know it's a long season. Not getting bored with doing the small things, that help elevate your game."
PFF gave Huff a 90.4 defensive grade and an 88.0 pass-rush grade – both ranked first on the Jets. He told reporters after the season that spending time with Pro Bowl teammates DL Quinnen Williams, CB Sauce Gardner and LB C.J. Mosley helped him elevate his game.
"It was cool just seeing what it takes to become a pro bowler and having them on my team," Huff said. "It's a blessing because not too many people get to learn from guys like Quinnen [Williams] and CJ [Mosley], and even Sauce [Gardner] throughout their career."
Over the offseason, Huff wants to improve his run-stopping abilities and build flexibility.
"Probably just going to spend time on my mobility around the edge," Huff said. "Getting low, working on extension on my power moves and just hone in on my run game and get ready to take advantage of whatever opportunities I get next year."