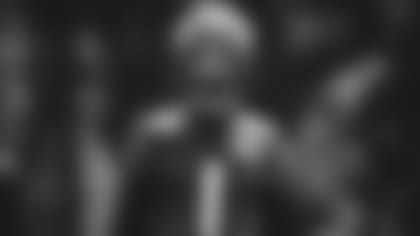 Last season, with an infusion of talent to complement a young, emerging group, Jets defensive coordinator Jeff Ulbrich presided over a defense that went from the bottom of the league to No. 4 overall in the NFL.
You could call it the Sauce Gardner effect. The Quinnen Williams effect. The C.J. Mosley effect. Even the D.J. Reed effect. The point is the Jets defense in the 2022 season put it all together -- front to back, back to front.
So, what do you do for an encore? An influx of more promising rookies and the addition of veterans, like safety Chuck Clark, to augment a potentially elite group.
"We'll see, time will tell," Ulbrich said during the late-May/early-June OTA sessions at the Atlantic Health Jets Training Center. "What I do know is that the makeup of these men is right. The way they work on a daily basis, the attention to detail, the strain, the finish, it couldn't be any better, especially this time of year. Our rate of people showing up just to participate in this non-mandatory time of year is, it's been exceptional."
In his rookie season, Gardner (the No. 4 overall pick in the 2022 NFL Draft) flashed his All-World credentials in 17 scintillating games. He won All-Pro, Defensive Rookie of the Year and Pro Bowl honors as the Green & White's newest lockdown cornerback.
Ulbrich believes that Gardner, 22, has only scratched the surface.
"The big challenge that's been laid to him is his ability to get the ball," Ulbrich said. "Obviously, led the league in passes defensed [20] and had an amazing year, especially for a rookie, but that's the next step for him to become the great corner that we all know he can be. The work ethic, again, he is with all these other guys, they work the right way. In my, whatever, 20 plus years in this league, I've just never seen a collective unit so committed to the process and it's really cool to be around."
Last season, Gardner's exuberance and talent belied the fact that it was his first season in the NFL. From his signature sauce created for Buffalo Wild Wings to his presence in the media and about town, Gardner has always -- as HC Robert Saleh says -- "kept the main thing the main thing." He's got a good head on his shoulders and Ulbrich knows it.
"We've all talked about and seen the sophomore slump for a lot of these guys that get a lot of recognition and notoriety and awards and the whole thing," Ulbrich said. "Typically, when that happens, you see a letdown, you see a guy take a deep breath, kick his feet up, I've arrived. I haven't felt or seen or sensed that from him in the slightest. To him, I think, it just made him more hungry to be the great corner that I know that he can be, so I don't anticipate any letdown. If there's a letdown, it's not going to be because he didn't prepare and he didn't work the same way."
In an interesting way, one of the biggest changes for Ulbrich's defense will be the necessity of facing four-time NFL MVP Aaron Rodgers every day in practice. It's a challenge, but a welcome one, particularly for a young-ish unit.
"His impact on this team, and especially these younger players is going to be, it's going to be felt for the remainder of all their careers to see a guy not just have the talent that he has, but the preparation and the process," Ulbrich said. "I think when you acquire a player of his stature, you never know what it's going to be like. I've been around a lot of superstars in this league that are very standoffish, that are very isolated, do their own thing, and he's as inclusive as I've ever been around, especially for a player of that caliber. Constantly giving us feedback about what he sees on us defensively, giving us feedback as far as just getting tighter as a team and committing to a process at a higher level. Yeah, he's going to change the course of these young players' careers forever."
Some quick hits from the Jets DC:
* On rookie DE Will McDonald: "He's got the right mindset. I know that he comes out here and works his butt off every day. He's not having the rookie late to meetings, late to lifting, late to. ... He's on point as far as all that is concerned. Then athletically, he's got some freakiness to him from an athletic standpoint."
* On Jermaine Johnson: "I've seen a guy that's just matured. When he got here last year, there were some ups and downs as there are with all rookies. He is in such a better place this year. You can just feel that he's settled. He understands exactly what he wants to get accomplished, and more importantly, he understands how to get that accomplished."
* On Micheal Clemons: "He's not a small man. I don't know exactly what he was weighing last year, but he's in the 290s, I think, so he's a guy that could easily reduce inside and have a lot of success in there. He's a guy that's a good athlete outside, but he's a great athlete inside, so it'll be fun to see him get work at both."
* On Chuck Clark: "There's a reason he's played such consistent football for such a long time. He's just every single detail. He will not allow gray to live in any defense, in any adjustment, in any technique, wants clarification for everything that we do.