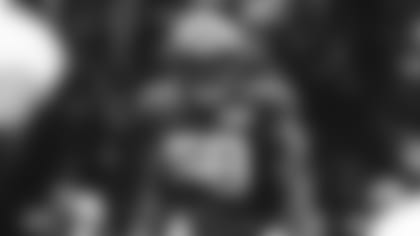 Jets defensive coordinator Jeff Ulbrich was animated and excited when he stepped to the lectern after practice at the Atlantic Health Jets Training Center on Wednesday. Known around the league for a prodigious goatee in his playing days that has now grown into a righteous salt-and-pepper beard, Ulbrich held court and offered insight on the team's position groups.
He made one thing perfectly clear -- when it comes to his defensive line, "We're going to lean on them," he said.
And while he and the Jets will "lean on" the D-line, Ulbrich said he believes one of the keys to that approach is DE Carl Lawson, signed in free agency from Cincinnati.
"I had the highest regard for him before I got here," said Ulbrich, who had several roles on the defensive side with the Falcons from 2015 until this past January. "He is one of the rare guys, an exceptional player, but the general public doesn't know him yet. Everyone is caught up in sacks, quarterback disruptions, the statistical part of rushing the quarterback. He doesn't always check those boxes, but he has historical win rates. He has an obsession with the game and to see him up close, the way he studies the offense, it's as obsessed as ever seen. I'm blown away by what a student of the game he is."
In fact, last season Lawson had a modest 5.5 sacks, but he earned 64 total pressures, according to Pro Football Focus, fourth-most among all edge rushers. He also hit the quarterback 24 times, second-most among edge defenders in 2020.
Will Lawson's sacks come? "A lot of things [play into it]," Ulbrich said. "Sometimes who you're working with as far as interior rushers, sometimes coverage, sometimes not creating enough deception. It's a lot of things. We're hoping the DBs improve so they get really good at getting connected and disrupting. When you create deception on the back end I'm confident the interior rush will be there and he'll finally get the national recognition he deserves."
As head coach Robert Saleh said recently, you can never have too many defensive linemen. And in addition to Lawson, the Jets have added veterans Sheldon Rankins and Vinny Curry, who is expected to be out until Week 2 of the regular season, to an existing group that includes John Franklin-Myers, Quinnen Williams, Folorunso Fatukasi and Nathan Shepherd. It's a deep group that has been augmented with draft picks and smart pickups -- adding depth and fostering competition.
"They showed glimpses of being good," Ulbrich said after less than a week of training camp. "I'm excited about the unit, edge to edge, and the depth some players add to the defense."
Ulbrich shares the coaching staff's confidence, and concern over the development of the Jets' young corps of cornerbacks. Though Ulbrich said that the group has been improving by the day, he's more than aware the group has a lot of ground to cover before the regular season opener at Carolina on Sept. 12.
"The biggest difference for them is they don't have veteran guy to look to, to show the process and what it's supposed to look," Ulbrich said. "At the same time, it creates this unbelievable competition across the board. Right now I think Bryce [Hall] and Bless [Austin] are taking the first reps, but they know the best man will play. It's been an awesome competition so far. The young guys are getting better every day."
As a former linebacker (2000-9 with the 49ers), it should come as no surprise that Ulbrich has a special place in his head and heart for the dudes who play behind the D-line and in front of the DBs. And some of that focus has been trained on C.J. Mosley, who missed most of the 2019 season because of injuries and opted out of the 2020 NFL season over concerns about the coronavirus pandemic. Now Mosley is back, fit (down in weight to 231 pounds) and eager to reclaim his place among the game's elite linebackers.
"First of all, credit to him," Ulbrich said. "Here's a guy who has lived at 240-245 and he understands that there's going to be a lot of stress on him in this defensive coverage. He understood that in the spring and worked his butt off and came back at 231. Amazing. He's not a small man, it took a lot of work. You're seeing it now. He's played a little but he's not old. This is the best I've seen him.
"He's got great awareness, football IQ, the ability to communicate and talk to these guys and he's a huge help for the interior too, the linebacker next to him. I anticipate he's going to be a huge part of our success."