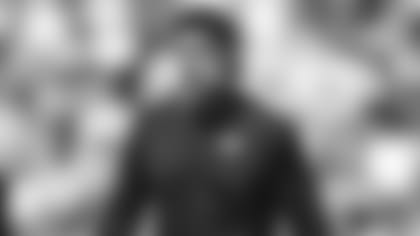 For the Jets and defensive coordinator Jeff Ulbrich, there's much to fear ahead of the Sunday night meeting against the defending Super Bowl champion Kansas City Chiefs. Foremost among Ulbrich's concerns is KC quarterback Patrick Mahomes and what Ulbrich calls "the what-if he goes mentality."
"There's two plays every play, so you have to make up your mind it's going to be that way," Ulbrich said on Thursday. "So man or zone you defend the first play, and then that internal timer in your head clicks to the second play. So whoever is around you, stop looking at your man and plaster him, wear him out. Trust the defensive line to contain him [Mahomes] and then the beauty of it is when you play zone, you have an opp to you to go after the quarterback.
"Unfortunately, we've played some athletic quarterbacks, so our guys understand that mentality. His magic is in the second play, his magic is when things break down. So it's who takes who to deep water. We'll see."
Though the KC (2-1) offense is T12th in scoring, it is dangerous and explosive. Through three games, the Chiefs are fifth in passing yards a game and eighth in yards per pass play. For his part, the unpredictable and savvy Mahomes is No. 3 among QBs in yards per rush (6.4) and has been sacked the fewest times (1 sack in 114 dropbacks) while he is sixth in passer rating (99.5).
"It's an awesome, tremendous challenge in every way," Ulbrich said. "What's really unique is that this is a pass-first team. It used to be that if they ran for over 100 yards, beautiful. That's the direction you want to steer then, but now with [Isaiah] Pacheco [155 yards, 4.4 a carry] and the run game —they threaten you in every way. It's a tremendous challenge."
The Jets' defense has been challenged through three weeks as the Green & White offense has struggled to convert on third down and stay on the field; on the flip side the defense has been challenged getting off the field. In each of the team's three games, the Jets have been outscored in the first half (41-16) while allowing 4 TDs. The script, however, has been flipped in the second half of each game as the Jets outscored the opposition by 26-20 while not allowing a single TD.
"We've got a lot of quarterback hits, we're generating pressure but we can do better," Ulbrich said. "Unfortunately, we haven't had a ton of opportunities to rush the quarterback. Teams have attacked us in a different way, in the run game, with bootlegs and high-efficiency plays. They're not holding the ball long and they're trying to eliminate our D-line as much as they can."
Linebacker Quincy Williams echoed the DC when he said: "Teams are taking a lot more checkdowns. They are throwing short and not really trying to throw deep."
Referring to Mahomes, Williams said: "With him, you have to do right longer. You can't have a mental clock in your head that thinks the ball should be out or he should be sacked by now, you can't have that mindset. You have to do it right longer. Continue plastering the guy that is in your zone and grabbing him."
The Jets' defensive backfield will be under pressure all game dealing with TE Travis Kelce (he leads the team with 11 receptions and 2 receiving TD), and WRs Marquez Valdes-Scantling and WR Justin Watson (who has 7 receptions but for 158 yards (22.6 yards per catch). Mahomes has been generous to his receivers, spreading the ball around to 14 different players.
"I think it's good, I like to face these guys, they are exotic," Ulbrich said. "What we're built for allows our guys to problem solve. When you get something game-plan driven, it allows you to give your players a better opportunity to problem solve. But even when we play it right, they've got tremendous speed and a quarterback who knows how to deliver."