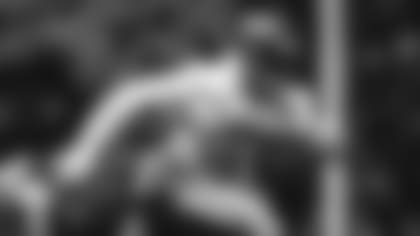 Gregg Williams is a bright man who is good with numbers. During his first public appearance with reporters since being named the Jets' defensive coordinator, Williams said the Browns paced the NFL last season with 737 snaps played in a 3-4 front. He added that he had 42 packages of defense and that the Green & White were using only 14 or 15 of them as spring came to an end. And he also expressed his excitement to coach the Jets' big three on defense: S Jamal Adams, ILB C.J. Mosley and DL Leonard Williams.
The 60-year-old Williams, a few months into his seventh assignment as a pro defensive coordinator, reminded Adams that he's worked with some excellent talents over his 28 years of coaching.
"He's motivated by some of the guys I've coached before. He's watched those films and some of those are his idols too," said Williams, who has mentored likes of Aaron Donald, Myles Garrett, Malcolm Jenkins, Jonathan Vilma and Sean Taylor. "One of the things he's very motivated by is directness. I said, 'I've coached a lot better people than you before.'"
Adams, coming off his first Pro Bowl campaign, could be one of the most competitive players Williams had coached in his illustrious career. Williams, a master psychologist, says there is a method to his directness.
"But that was a point," he added of his conversation with Adams. "And all of a sudden, he's been fun to watch and he can't fake who he is either. Not only him but Marcus (Maye) and some other guys too. There are other guys there that it's a pretty good position and we have to stay healthy and we have to cut them loose and let them play. But they've had a good spring."
Just like Adams, Williams said he wanted to draft C.J. Mosley when the former collegiate standout was leaving Alabama. Referring to 'Bama head coach Nick Saban as a good friend, Williams said he had a good understanding of Mosley's background.
"He's a really good leader and he leads by example first. All the great leaders that I've ever been a part of have to show great example before you open your mouth, so he's always doing that," Williams said of the four-time Pro Bowler who signed with New York's AFC representative in March. "He's always done that, he's not an extremely highly vocal guy but he sets the example by how he goes about doing his job and he understands the routine of being a pro, being a real pro. He's excited about the flexibility now of all a sudden even being more of a quarterback of the defense and having the checks and the audible systems and the things that we teach. He's been very good and it will be fun."
And Williams also believes it will be fun coaching Leonard Williams, one of the most talented interior defensive linemen in the NFL. The 6'5", 291-pound Williams won't turn 25 until next week.
"I'm really looking forward to cutting him loose and he was high on my list to get a chance to draft. There is a drastic difference in just the philosophy of how we play up front and he's had some really great springs, can't wait to get him in pads and ready to go," Williams said of the Big Cat. "But he's another one I'm excited about the opportunity to help him be as good as he can be."
See the Best Images from the Penultimate OTA Practice During the 2019 Offseason Program