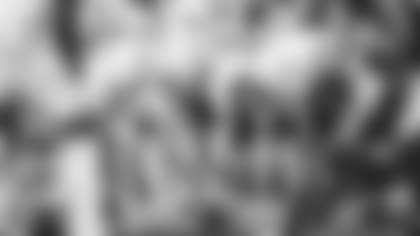 Acts of Larceny
One early season trait of this Jets team has been their ability to force turnovers. Sunday was their 3rd game of the season in which they turned the opponent over at least three times. With four more added to the pile against the Colts, the Jets have produced 15 takeaways so far in 2018 which is good for second most in the NFL. At this rate they should easily surpass last year's total of 20, with 10 games still to play. However, one area you'd like to see some improvement upon is cashing in on those chances. The Jets had 20 points off the four takeaways, but seven of those were courtesy of Mo Claiborne's pick-six. To win games in this league on a consistent basis, you need to put up 7's more often than 3's.
History Books
One of the most consistent performers all season long has been Jason Myers. Sunday, the Jets Kicker booted home a single-game franchise best seven field goals in as many chances. The fourth-year pro is now an outstanding 16-for-17 on the season. Not bad for someone who wasn't even in the picture when training camp opened in July. Myers was brought on board only when Cairo Santos was unable to perform due to injury. His strong leg has also resulted in several touchbacks when it comes to opposing kickoff returns. Thanks to Myers' performance the Jets were able to emerge victorious, given their continued struggles in the red zone.
Red Zone Woes
The Jets came into Sunday's game last in the NFL in red zone offense. They struggled in that department again on Sunday, converting only 1-o- 6 opportunities. It's a surprising feat, considering most teams that are last in that category usually have losing records. Unless you're the '85 Bears when it comes to defense, you need to score touchdowns to win in this league.
Coming of Age
Sam Darnold took another giant step forward on Sunday. Once again, the rookie quarterback shook off a first quarter INT and played perhaps the best game of his young career. He completed 24 of 30 for 280 yards, with a pair of touchdowns and a pick. You have to go back to Chad Pennington from over a decade ago for the last time a Jets quarterback completed 80 percent of his passes on at least 30 attempts. I thought the drives to close the first half and open the second half were huge. With only 42 seconds to work with from their own 28-yard line, it would've been easy to take a knee and go into the locker room. But Todd Bowles showed faith in his young signal caller and four completions later the Jets found themselves up 10 at the break. Darnold and the offense then took the opening drive of the second half 72 yards, in just 5 plays, culminating with Chris Herndon's first career touchdown. And just like that the Jets found themselves up 17.
Welcome Aboard
A few of Sam Darnold's targets made big contributions in Sunday's victory. Jermaine Kearse caught a season-high nine passes for 94 yards in what was his best performance of the season. The veteran wideout was a proven security blanket a season ago and now appears to be rounding into form after an early season abdominal injury. Terrelle Pryor also made several nice grabs and is starting to find a role in this offense. The former Ohio State product hauled in his second touchdown in as many weeks. And welcome to the NFL Chris Herndon! The fourth-round pick from Miami notched his first career touchdown on a nifty 32-yard catch-and-run to start the second half. I'd look for his role in this offense to grow as the season rolls on.
Back to Even
Now the Jets have won back-to-back games. They're back at .500. Look at it as hitting the "reset' button and it's now a 10-game season. Remember, they were 3-3 at this point a year ago before things went south. But there's plenty of optimism surrounding this team, and for good reason. Now they'll go for the three home game sweep of October as they get set to host the 3-2-1 Vikings. I'm sure Jets fans will remember that Minnesota QB Kirk Cousins spurned the Green and White in free agency, electing to take his talents to the Twin Cities. But this is another test, against a playoff caliber team, that will go a long way towards measuring how far this team may or may not be from that conversation. Should be another great atmosphere at Met Life.