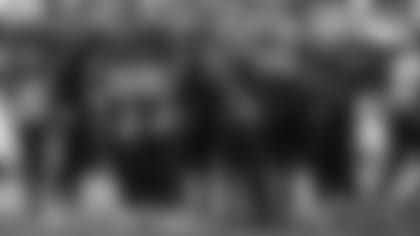 It's time to move on to the Thursday night after the Sunday before. But there's a big, tantalizing question for Jets fans before the Green & White, who put their rousing home win over Cincinnati in their rearview Monday and now take the Lucas Oil Stadium field to challenge the Colts.
Are the Jets ready to do it again? Play great and stun the NFL, this time with a primetime win on the road over a worthy opponent? No one was predicting, but QB Mike White said the Jets' approach will be the same.
"We're going to go out there with the same exact mindset. I know it sounds corny, but it's the truth," said White, the AFC Offensive Player of the Week after directing the 34-31 comeback win. "Coming in [Monday], we had the same mindset as we did last week coming in after the Patriots game. We have to close the book on this game, and especially with a short week, there's a lot of work to be done in a little amount of time. It helps after a win because guys are in a great mood and the energy in the building is better, but there's still work to be done."
The work that the Jets got done in rising to 2-5 by surprising the now 5-3 Bengals was impressive. A lot of it was executed by White, who had those stats we're now quite familiar with — 82% passing, best since Pennington, 405 passing yards, best since Vinny T, most yards along with Cam Newton in a first pro start since 1950, and so on.
One element of the Jets game plan, executed by White while Zach Wilson rested his sore knee, perhaps has gone underreported yet had a bearing on the Bengals win and may well impact how the Jets play against the Colts and beyond. That's ball distribution.
The Jets offense had 32 first downs vs. Cincinnati, their most in a game since the team-record 38 first downs vs. Miami in 1988. Those 32 chain-moving plays were distributed among 11 different players, tying the franchise mark since the 1970 merger. And 10 different players caught at least one White pass for a first down, tying the mark since '70 set by Richard Todd, Clark Gaines and the 1980 Jets in their early-season home loss to the 49ers.
Distribution is important, to keep all of your skill players involved while keeping the opponents guessing where the ball is going next. White explained that his success in getting not only RB Michael Carter but everyone else involved was a byproduct of the Bengals game plan.
"We knew watching them, they played a little bit of everything and it just so happened on Sunday we saw a lot more zone," he said. "When you see zone, and two-high zone specifically, they try not to let anything behind them. So you have to get into those zones quickly while they're expanding so you can get the ball in your receivers' hands and they can get upfield quick.
"That's when those 5-yard completions turn into 7, 8, and then we get our explosives off the naked [bootleg]. We hit the in-cut to Keelan Cole, an in-cut to Elijah Moore, the in-cut to Denzel Mims. Those plays will come, and I think we did a great job of not pressing and letting the plays come to us."
Can that happen again in Indianapolis? Colts D-coordinator Lou Anarumo certainly saw how and why the Jets succeeded so the hosts will have a different plan loaded up. They have top performers in LBs Darius Leonard and Bobby Okereke and DT DeForest Buckner ready to employ their aggressive style — Jets WR Keelan Cole describes it as "They see ball, get ball, hit ball." Indy doesn't give up a lot of big plays, like Cincy, but Indy also has the 27th-ranked pass defense in giving up 7.6 yards/pass play.
Meanwhile, if the Horseshoes allow more downfield opportunities than the Stripes did, White could take advantage with his WR corps, which may include No. 1 WR Corey Davis (hip) returning to action but also features Cole, Jamison Crowder, Elijah Moore and Denzel Mims, not to overlook Braxton Berrios or Jeff Smith. Those six wideouts accounted for 11 of the Jets' 23 passing first downs Sunday.
Defensively, the Jets' own LB tandem of C.J. Mosley and Jarrad Davis, together on the field for the first time last week, will need to contain RB Jonathan Taylor as well as they did Bengals tailback Joe Mixon. It's another tall task for the Green & White, but if they succeed, that could open pass-rush pathways to QB Carson Wentz before he finds WR Michael Pittman, Taylor out of the backfield or his tight ends.
"It comes down to responsibility, taking care of your job inside the building, studying, asking those questions, having those conversations," Jarrad Davis said. "The more we do that, the more we just breathe that positivity into the culture that we carry in the building, that's going to carry over on to gameday."
Head coach Robert Saleh is optimistic the carryover will lift his young team, not to mention his emergency QB turned NFL darling for at least a week.
"With Mike, there's an opportunity, he took advantage of it once, and now hit the reset button and let's go do it again," Saleh said. "These moments happen throughout our football team every single year, every single week. But when it happens at the quarterback position, which is very rare, it's always cool to watch."