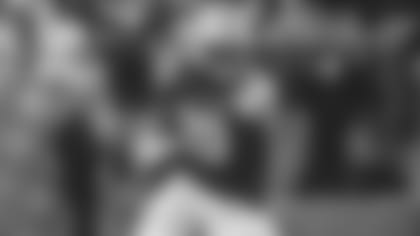 Jets tight end Chris Herndon was named to Pro Football Focus' Team of the Week, earning the top offensive grade (92.9) in the NFL in Week 16.
Herndon caught six passes against the Packers for a career-high 82 yards and one touchdown. For the season, the fourth-round pick ranks second on the Green & White with 494 yards and is tied for second with 38 receptions, which also leads all rookie tight ends. The Miami product is four yards shy of Ravens TE Mark Andrews for the rookie lead in receiving yards for the position. For the year, Herndon is the fifth ranked tight end according to PFF.
"I'm happy with just being as consistent as I can be, not really allowing myself to hit that rookie wall like a lot of people say," he said following Sunday's game. "I'm trying my hardest to keep up with my body and studying, following the older guys. That's what I'm most proud of."
Herndon established a franchise record for rookie right ends with four touchdowns and trails Dustin Keller's receiving yards mark by 41. The 6'4", 253-pound Herndon's four scores is also tied for the league lead among rookie tight ends.
"He's tough, he's going to be a good ballplayer," head coach Todd Bowles said Monday. "He shows signs of improvement every week and he comes to the game. He made a great one-handed catch. He does a lot of little things the right way and he goes about it the right way from a study standpoint so that's all positive for him."