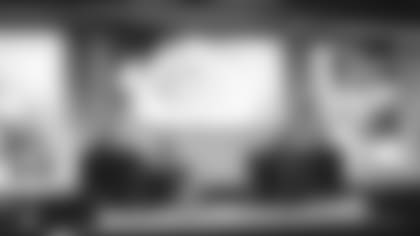 The New York Jets hosted their 18th Annual Kickoff Luncheon at Cipriani Wall Street on Tuesday. Jets coaches, players, and legends came together at the green carpet event to help raise over $750,000 to benefit both the New York Jets Foundation and the Lupus Research Alliance, and to give fans a glimpse of the upcoming year.
Attendees entered the luxurious venue, which has hosted the event since 2007, through large, golden revolving doors and were welcomed by Jets Flight Crew Cheerleaders lining both sides of the green carpet. Bob Wischusen, the radio voice of the Jets and emcee of the occasion, opened the event introducing Owner Christopher Johnson and Team President Neil Glat.
Following introductions, Glat welcomed both the Jets players and legends to the stage and presented a short synopsis of One Team, One Goal. He spoke in depth on the team's community service, technology enhancements, and wide-ranging programming developed by Jets 360 Productions.
"Sometimes you're out in Florham Park, you're practicing all of the time, and fans do come out there," Glat said. "But when they come into the city and feel the energy of the city at the beginning of the season, the players really realize that they're the New York Jets. They're having a lot of fun and realize that there are a lot of people in this city that are behind them and cheering them on for a great season."
Ken Farber, President and CEO of Lupus Research Alliance, also spoke about the relationship with the Jets, and how the luncheon has assisted in providing funds for research, technology, and opportunities to find cures for lupus.
"The Lupus Research Alliance couldn't ask for better partners than the New York Jets," Farber said. "The team has been fabulous, the Johnson family has been amazing, and President Neil Glat is beyond anything we could ever hope for in terms of a partner. It's really been absolutely terrific.
"The Jets aspire to be champions on the field, but I will tell you, they are already champions off the field."
The Jets Kickoff Luncheon has helped raise over $12 million to benefit both the NY Jets Foundation and the Lupus Research Alliance, and had nearly 800 people in attendance this year.