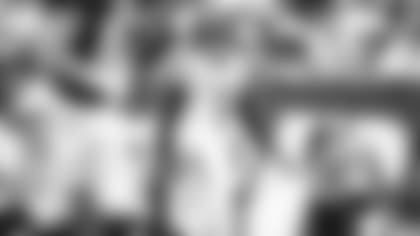 After the Jets' loss to the Bengals on Sunday, rookie CB Sauce Gardner told reporters he had two goals. First, get a win. Second, jumpstart his campaign for the NFL's Defensive Rookie of the Year award by playing well against Cincinnati WR Ja'Marr Chase.
The Jets fell short, 27-12. But when asked if his performance sent a message to the NFL, Sauce responded emphatically: "Most definitely."
"I felt like I did what I had to do," Gardner said. "But it's not about me, it's about the team.," Gardner said. " So, we got to be able to do what we have to do as a collective."
Gardner stuffed the stat sheet, finishing with 4 tackles, 2 passes defended and a tackle for loss. He lined up primarily on the left side of the defense and matched up multiple times with the 2021 Second Team All-Pro Chase – just as he planned.
"I had this one circled," Gardner said. "I was looking forward to going against Chase. A lot of people say he is the best receiver in the league, and I have the goal of being defensive rookie of the year. That is one of my big individual goals and I feel I got to be able to go against the best if I want to be able to achieve that. So yes, I was looking forward to it."
Early in the first quarter, Bengals QB Joe Burrow tested Gardner. He went step-for-step with Chase on a long pass downfield and broke up the well-placed ball with his nearly 80-inch wingspan.
Gardner admitted he is not one to plan celebrations. So, after the pass break up, he broke out a spontaneous snow angel on the MetLife Stadium turf.
"I don't even know what made me do that," Gardner said. "It is not even snowing outside. But it was just something that I naturally did. I'm not a big celebrator and in terms of doing dances and stuff like that, I just jump around."
Gardner surrendered no catches to Chase while the primary defender and at his locker postgame was adamant he controlled the matchup.
"He didn't have any catches on me, zero catches," Gardner said. "I never felt like I was struggling. I felt like I did what I had to do."
And despite Tee Higgins catching Gardner a step behind in the second quarter for a 45-yard completion, head coach Robert Saleh agreed the No. 4 pick in April's NFL Draft held his own.
"He did a good job," Saleh said. "They tried him a couple of times early and got one of them with Higgins. He was in a really good position, but he has got to go find it. Which, if quarterbacks keep trying him, he's going to find it. I was really pumped about the way he played."
Gardner added: "That one little play that Tee had, that was a decent play. Our coaches argued he was pushing off, which he was, but that is no excuse. … Just beside that play, I feel like I did what I had to do."
See the best images from the Week 3 matchup between the Jets and Bengals at MetLife Stadium.