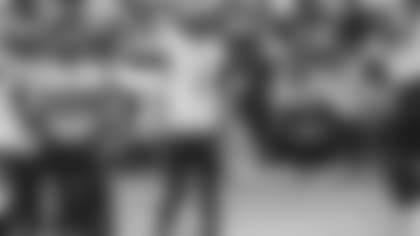 Daniel Jeremiah, NFL Network's lead draft analyst, recently published an article ranking the top-25 rookies in the league after four games. The Jets had four representatives on the list, including CB Sauce Gardner, who Jeremiah ranked No. 1.
"Gardner is already establishing himself as one of the premier players at his position," he wrote. "He has an uncanny knack for locating and playing the ball down the field."
Gardner, the No. 4 overall pick out of Cincinnati, leads the Green & White with 5 pass defenses. He has 15 tackles and 1 tackle for loss.
Jeremiah then ranked WR Garrett Wilson, the No. 10 overall pick, at No. 5.
"Wilson is ultra-twitched up and he's already provided a pivotal touchdown catch in a comeback victory for the Jets," Jeremiah wrote. "He has the look of a true No. 1 wideout."
Wilson's 20 receptions and 255 receiving yards are second on the team, and his 2 touchdown catches, both in a Week 2 victory at Cleveland, are tied for first. He was named Pepsi Zero Sugar Rookie of the Week for his performance against the Browns, totaling 102 yards and 2 TDs on 7 catches, including the game-winner with 22 seconds remaining.
RB Breece Hall also cracked Jeremiah's top-10, coming in at No. 8.
"Hall is quickly emerging as the Jets' main runner (team-high 38 carries for 178 yards) and he's provided plenty of value in the passing game, as well (15 catches for 113 yards)," Jeremiah wrote. "He's getting better every week and I get the sense he's on the verge of a monster game in the near future."
Hall's first career rushing TD came last week against the Steelers that put the Jets up by 24-20 with 18 seconds remaining. The second-round pick out of Iowa State was the first running back selected in April's draft and is nominated for Pepsi Zero Sugar Rookie of the Week for his performance at Pittsburgh with 66 rushing yards and 1 TD on 17 carries. He also had 2 catches for 12 yards.
DE Jermaine Johnson, the No. 26 overall pick, rounds out the Green & White's representatives in Jeremiah's ranking. Johnson came in at No. 18.
"Johnson has been very disruptive against both the run and pass," Jeremiah wrote. "He has earned an increased role in the Jets' defense."
Johnson, who had 12 sacks in 2021 at Florida State, has 1.5 in his first four games. He also has 12 tackles, 2 tackles for loss and 2 QB hits.