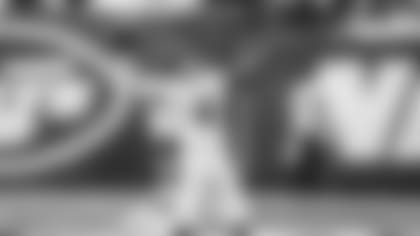 Jets CB D.J. Reed took to the field Sunday against Baltimore with a heavy heart. While standing in the tunnel for player introductions, Reed's family and friends texted him to let him know that his father, Dennis Reed Sr., had passed after an 18-year battle with multiple sclerosis.
"My phone started right before," Reed said. "My cousins were texting me, saying condolences to dad, and then my uncle texted me that your dad passed away, rest in peace."
With the weight of the loss, Reed composed himself, if only for a moment, and sprinted onto the field at MetLife Stadium. As the national anthem began, emotions came pouring out and Reed began to cry.
"It was hard," Reed said. "I was just controlling my energy because my emotions were everywhere. But then I just thought I believe in God, and I just thought that for him to pass away right before the game, there was a reason for that because he could have passed during the whole week, and he passed away nearly right before the game started."
Diagnosed in 2004 with MS., Reed Sr.'s passing did not come as a complete shock. Reed's mother, Linda, delivered the news Wednesday that his father had decided to come off life support and wanted the tube removed that was helping him breathe. Reed Sr. told family he was "tired of fighting" and it allowed Reed time to call his father and grieve before the game.
"I started to get in my mind prepared during the week, but then when it actually happened, the day of the game, it was just emotional," Reed said. "And then it was on 9/11, I don't know if that added more to it, but like during the national anthem I was just crying. It was tough."
Reed made a few of his coaches and teammates aware of his father's situation during the week. He used practice and team meetings to keep his mind occupied.
"Obviously very, very tough day for D.J. Heart goes out to him and his family. D.J. is a pro's pro, a man's man," head coach Robert Saleh said. "You never know what these guys are going through, especially, we know in the locker room, but outside in the stands, outside the building, nobody knows."
LB Quincy Williams added: "He is choosing to be with us. So now every time we step on that field and every time we are in these meetings, this man could be with his family mourning over his dad but instead he is with us going over these things and trying to correct these things."
Reed Sr. lived in Waterloo, Iowa with his caretaker Bonnie. Reed visited Reed Sr. on occasion, most recently last offseason, and spoke to him on the phone often, including Wednesday before he passed.
Reed Sr. turned Reed onto sports when he was young. He introduced him to wrestling, – which he had played in school – soccer, basketball, tennis and eventually football.
"When he was healthy, he was active," Reed said. "He did very well in my life. He was a great father and all that. And when he got sick, it kind of deteriorated his body and stuff. So, he could not be there like he wanted to be there."
When they chatted, Reed Sr. sounded like the same father that instilled in Reed his toughness and love for football.
"The thing that I loved about my dad is he was always in front of me and talking on the phone with him and stuff he has always had a sense of humor," Reed said. "Always smiling, chuckling joking. cracking jokes, just trying to make light of things. I learned a lot from his personality and doing that during tough times."
Reed persevered in the Jets' 24-9 loss to the Ravens, just as his father had taught him. He became the fourth Jets cornerback since 2000, according to Tru Media, to register an interception and forced fumble in the same game. Next Gen Stats credited Reed, a free agent addition in March, with 0 receptions allowed with the 1 INT on 5 targets over 29 coverage snaps. And after the fourth-quarter pick of Lamar Jackson, Reed got down on both knees and raised his arms to the sky, an act of love to his father.
"It was deeper than football," Reed said. "When I got the interception, that is what I wanted to do. I wanted to pay tribute to my dad."
When talking with reporters Monday, Reed remained unsure if he would attend the funeral but noted he planned to dedicate the season to his dad. He battled through in week one with an amazing performance.
"I just said, 'Okay I know he's watching, so I'm going to put on a show for him.'