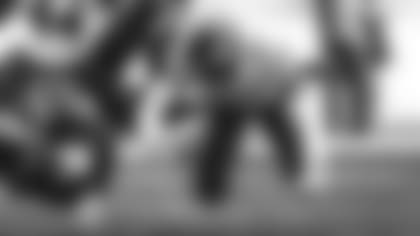 Jets starting cornerback Bryce Hall has had 5 pass defenses in the team's last two games and feels like he's on the verge of turning a PD into an INT.
"Man, I'm right there," he said. "The next one, it's going down."
Hall, a fifth-round pick in 2020 out of Virginia, has played 64, 57, 63, 100 and 77 snaps (a total of 361)on defense this season, including all 100 against the Titans followed by 77 against the Falcons in London on Sunday. The defense, which ranked No. 13 overall and No. 3 on third-down conversion, had an uncharacteristic performance as the Falcons converted 9 of 14 on third down (64%). Hall feels the snaps played and travel across the pond were unrelated to the team's performance.
"No, honestly, that wasn't a factor," he said. "I felt like we weren't heavy-legged. At the end of the day, we have to do what we do and execute our jobs. That's a mental thing, not necessarily have to do with the physical part of it. Physically I felt like we were fine and ready to go."
He later added: "I haven't watched the film, I haven't looked at it thoroughly, but it really comes down to us just executing our assignments. I think there were a couple times where guys were free, this that and the third. I think it's just owning our assignments. I think they came out and did some different things because they had different guys in different places. For us, it just comes down to making sure to own the looks, what we're seeing and then being able to execute that on a high level."
Falcons QB Matt Ryan, a 14-year veteran, threw for 342 yards against a young secondary that includes Hall. The Green & White, after having 7 sacks against Tennessee, wasn't able to take down Ryan once.
"Throughout his career, he's always been somebody who gets the ball out quick, especially those quarterbacks who have been really seasoned in the league," Hall said. "They're very built on timing, they get the ball out quick, they know where their guys are supposed to be. That's just kind of who we were facing today."
Hall has 24 tackles, 5 pass defenses, .5 sacks and 2 QB hits this season and believes the defense is on the brink of turning a corner.
"We just didn't execute the assignment that we were in," he said. "It was just a collective thing in the secondary that we have to get fixed. That was that. It's just us doing the ordinary things right, owning our assignments. When we do that, we're going to be really good."