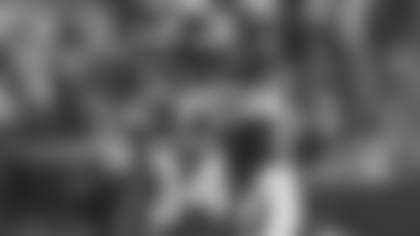 When Brian Poole became a free agent last March, the Jets saw a winner and a cornerback who could potentially be a great fit in Gregg Williams' defense. He signed with the Green & White and soon after became one of the team's most efficient players.
"When you acquire guys from other teams, you want guys who have been part of winning programs," head coach Adam Gase said of Poole in September. "We know what Dan Quinn is all about and what he teaches — Brian fits right in with what we do. Brian's a competitor, he loves ball and his will to win is outstanding."
Under Quinn in Atlanta, Poole played three seasons and was part of two playoff runs. The undrafted free agent out of Florida, who played for Quinn with the Gators, had 4 tackles in Super Bowl LI as his first professional campaign ended with a 34-28 OT loss to the Patriots. But after appearing in 47 contests with Atlanta from 2016-18, Poole, who had personal bests of 74 tackles, 3 interceptions and 3 sacks in his final year in the ATL, did not receive a tender last winter.
With his second team, Poole made a great first impression. The 5'9", 213-pound nickel corner played a critical role on a defense that finished No. 7 overall (323.1 Yds/G) and No. 2 against the run (86.9 Yds/G). In a Week 3 loss at the Pats, Poole was relentless and produced a rare number on the stat sheet.
"That's why you have a nickel defensive back have 12 tackles. That means you're going out of your way for contact and not a lot of guys do that," Gase said. "I feel like this guy embodies what we want to do, he does a good job of trying to execute all of Gregg's defenses and he's been a huge addition for us."
Poole tied for fifth on the defense in tackles (62) and added 4 TFL, 6 PDs, 5 QB hits, and 1 FR. After recording his first career safety in Week 1 vs. the Bills, Poole had his first career pick-six against the Raiders in Week 12.
"I feel like my style really fit well with this defense this year. I was able to make a good amount of plays," said the humble Poole. "I was just ready when my number was called and that really was the main thing. Gregg did a good job of drawing it up and it was just my job to execute it and I was able to do that."
There aren't many cornerbacks who can excel inside at the nickel spot. The responsibility of locking up some of the NFL's quickest players on option routes in freeway traffic is hard enough, but the Jets wanted a hybrid in that spot.
"With what we do on defense and how aggressive our nickel is, you can't just go in there with a guy who is just a coverage guy in this defense. It's just not going to work. The reason why Gregg plays as much nickel as he does is Brian is part of the physicality of the game," Gase said. "He has the ability to cover as a corner and the physicality of a safety."
The 27-year-old Poole, who missed two games in December due to a concussion, was the best corner on a defense that was hit hard by injuries and started eight CBs.
"Everyone in the room played or started a game or two," Poole said. "Unfortunately the injuries happened, but fortunately other young guys got to play and got an opportunity to show what they could do."
Poole is scheduled to become a free agent again in March. The Jets, equipped with one of the most talented young safety duos in the NFL in first-team All-Pro Jamal Adams and Marcus Maye, will have to make moves at corner this spring and Poole would like to run it back.
"When I was in Atlanta, we had a young core unit that I felt was really good. I felt like we really did some special things if they kept us together, but unfortunately they didn't," he said. "Now one year later, kind of in a similar situation, I feel like we have a really good unit here. Hopefully we can all stay together because if we can stay together, I feel like the sky's the limit for us."