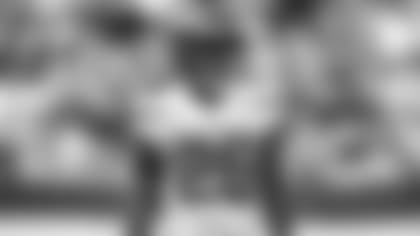 Of the 737 snaps on defense taken by the Jets' rookie cornerback Brandin Echols, two will forever be the most memorable for the sixth-round draft pick out of Kentucky.
The first, of course, was his pick-six at Miami on Dec. 19. The second? At MetLife Stadium on Jan. 2 when he swiped a pass by Tampa Bay quarterback Tom Brady intended for Mike Evans.
Though Brady led the Buccaneers to a last-gasp 28-24 victory, Echols owns a piece of his personal history that is likely to one day occupy a cherished place in the Echols household. After the game, he asked Brady to autograph the piece of memorabilia.
It was simply a rookie being a rookie. And although some members of the chattering class saw something wrong about the request and Brady's gracious gesture, Jets head coach Robert Saleh saw something completely different.
"The reality is, the NFL is a brotherhood," Saleh told reporters during his press conference the day after the Tampa Bay game. "These guys all know each other. They talk to each other on the phone, they call each other, they work out with one another. This is a huge fraternity of brothers and they just spent four hours going at it on the football field, they spent all week prepping on how they're just going to absolutely embarrass one another, and so at the end of the game, the jersey exchanges, those conversations that they're having, that is a very cool, genuine moment that's happening between players."
Though he did admit that Echols' request was a little "ballsy," Saleh again showed his stripes, supporting one of his young players.
"I don't care what anyone says – he picked off Tom," Saleh added. "Like that's a childhood dream. That's one of the greatest of all time and for Tom to humor him with the autograph and to do that for him, I think is pretty cool on his part. I have no problem with it, not at all, because I know what those guys go through and trust me, Echols cares that we lost and he cares that Tom had a hell of a game. But to be able to pick off a guy like Tom Brady — how many guys can say that, right?"
How many guys indeed? (For the record, 171 in the regular season according to Yahoo Sports.)
Echols, 24, was named a starter at cornerback from Day 1 of the 2021 NFL regular season. Along with his fellow rookie Michael Carter II (a fifth-round pick) and second-year man Bryce Hall, the trio gives the Jets great hope at the position as the team inches toward the 2022 season.
"I had high expectations for myself," Echols told team reporter Ethan Greenberg when he referred to being taken in the sixth round. "I'm most proud of the way I developed throughout the season, especially toward the end when I felt real strong."
General manager Joe Douglas, in his second draft for the Jets in 2021, hit on nearly every pick. The draft yielded four starters on offense -- QB Zach Wilson, LG Alijah Vera-Tucker, WR Elijah Moore and RB Michael Carter -- and nearly the same number on defense in Echols, Carter and, to a lesser degree, Jason Pinnock (who also saw time at safety). Two other promising players, rookie linebackers Jamien Sherwood (4 starts) and Hamsah Nasirildeen (2 starts), combined to appear in 17 contests.
"I feel like we've got really high hopes," Echols (5-10, 175) said, referring to his young teammates. "Especially the way we took on challenges this season, all late-round picks. The way we finished the season lets me know and I think we're going to be really good for this team."
In his 14 games (he missed three games with a quad injury), Echols totaled 63 tackles (50 solo), 2 TFL and 9 passes defensed.
In college, after transferring to Kentucky from Northwest Mississippi Community College (where he played wide receiver), Echols played in 24 games (22 starts) and totaled 12 pass defenses and an interception, 108 tackles, 4.5 tackles for loss and 2 forced fumbles for the Wildcats. Perhaps it's no coincidence that playing in the SEC helped Echols to hone his craft against some of the best collegiate receivers in the country.
As well as he performed this past season, the native of Memphis, TN, said he plans to work on improving his quickness, footwork and technique.
For now, Echols can savor a rookie highlight each time he catches a glimpse of that ball signed by Brady.
"I thought it was a normal thing," Echols said the week after the game. "I thought it was the same thing as getting a jersey swap. But people made it a bigger deal than it was supposed to be. It didn't mean nothing to me because I'm just going out doing what I'm doing every week. It's good to just relax and live your childhood dream."
See All of the Top Images from the Green & White's 2021 Season