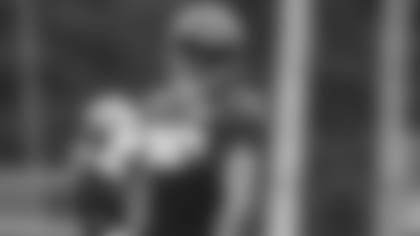 Last Sunday in the third quarter, when CB Sauce Gardner had to step out for a few plays after a big hit, some observers may have expected the worst for the Jets. But not second-year CB Brandin Echols — he stayed ready for moments like these.
"I just knew I had to stay ready," Echols said. "When I saw [Sauce] go down, I knew it was my time to come in. I knew when I came in, they were probably going to come at me because I was coming in cold. I had not played a snap of defense yet. So, I was already coming in with the mindset that they were going to be trying to come at me."
Echols was right, the Browns did try to target him as soon as he came in. Leading by 17-14 in the third quarter and on the Jets 4-yard line, the Browns aimed for the tight end Echols was covering. Instead of Browns QB Jacoby Brissett connecting with Harrison Bryant, Echols read the play and batted the ball down, getting his first pass breakup of the season.
"For Echols, he started all last year," HC Robert Saleh said. "He's been there and done that. He's had to defend [Stefon] Diggs and all the great ones. So, he's already seen a lot of football, and he's only in his second year, too. Which is what was great about last year and playing all of those young guys. So, Ahmad steps out for a few plays and I don't think any of us panicked. We didn't change the way we were doing things. We know [Echols] can go in and step in and do the job, too, which is a plus."
Echols was drafted in the sixth round last year and played a significant role in his rookie season. In 14 games, Echols had 63 total tackles, 2 interceptions, 9 passes defended and 1 touchdown. Making big time plays in big-time moments is not new for the second-year cornerback. 
"Coming off of last year, I have gained way more confidence and I am way more comfortable out there," Echols said. "Especially when it comes to realizing certain formations and what people want to do. It is all starting to become second nature, what I need to do once I start to see things move around. So, besides the limiting playing time I am getting, I still stay ready and prepare like I am a starter. And when your opportunity comes, just take advantage."
This week, the Jets take on the defending AFC champs in the Cincinnati Bengals. While the Bengals' receivers present their own unique set of challenges for the Jets secondary, Echols will be ready when called upon.
"You have just got to keep [Ja'Marr] Chase, [Tee] Higgins, and [Tyler] Boyd contained," Echols said. "Watching film, everybody knows they love taking deep shots, so as long as we limit those deep shots, I think that we will be alright.
"When your time comes, you have got to take advantage. We have depth in all of our rooms, any of us can be starters. You have just got to be ready when your name is called."