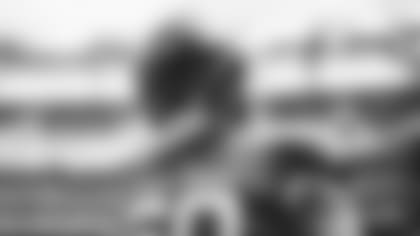 While the Jets don't have any joint practices or games on the schedule this weekend, the intensity of practices increases ahead of the Week 1 game against Baltimore, according to Jets' center Connor McGovern.
"It kind of cranks up a little bit," said McGovern. "It's a little bit more physical, you're not quite doing the competition that you had in camp, you're not quite competing against your defense, and it cranks up in the mental aspect. You're trying to learn as best you can from film, the cards, and all that kind of stuff of what you're going to see on Sunday. It's definitely different in the fact that you're not quite competing the same way, but the mental intensity has gone up."
The time between now and Sept. 11 is especially important for the Jets' starting offensive line. The starting five (LT Duane Brown, LG Laken Tomlinson, C McGovern, RG Alijah Vera-Tucker and RT George Fant) only played four series in the preseason game against the Giants and have only had two weeks of practices together so far. McGovern emphasized the significance of the coming week for the group.
"You know it's huge," McGovern said. "We're not quite doing the padded practices this week, we'll have a padded practice next week, but you just really have to be able to focus on pad level. Being low, being physical, so when the pads come on, it transitions well. It's really important."
The biggest challenge other than finding the cohesion as a unit, however, is preparing for a team with a new defensive coordinator. This past January the Ravens hired Mike Macdonald, who spent the 2021-2022 season at the University of Michigan helping the Wolverines to the College Football Playoffs. McGovern understands how having a new coach complicates the preparation for Week 1, but he said it's nothing this group cannot handle.
"It does make it a little harder," McGovern said. "You look at preseason, but they always hide stuff in the preseason and they don't do everything they're going to do. There's going to be a lot of stuff that you're going to have to fix on the fly. You'll see it once, come back to the sideline and get on the tablet, and see exactly what it looked like to go fix it the next time. It does have a bit of an added difficulty to it but it's like that every year. You have guys that have been defensive coordinators for 25 years and week 1 they change it up a little bit."
McGovern, who returns for his third season with the Jets, said that last season was the best of his career. Pro Football Focus awarded McGovern his best overall blocking grade in the 2021 season with a 75.9. This season McGovern has an advantage that he's never experienced before, and he wants to use that to take his advantage.
"This is the first time I've been with the same offensive coordinator and offensive line coach," McGovern said. "I'm not worrying about what my first two steps look like, I'm not worrying about 'well if they're in this alignment what does John Benton or Mike LaFleur want,' I know what they want, and I can come out and play with more confidence. When you're sitting there thinking about 'what's my angle here?' or 'how should I play this?', 'what should I do here?', you tend to lose some of that confidence and some of that physicality. You get to really take that to the next level being in the same system for the second year."