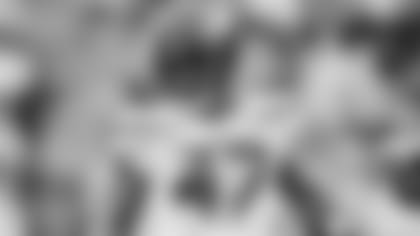 With one game to go -- Sunday against the unbeaten Philadelphia Eagles -- before the Jets get a week off to prepare for the rest of the season, Bryce Huff has emerged as a budding breakout star on the Jets' defensive line. The undrafted free agent might have started his professional career as a future unsung hero, but now his coaches, teammates and the news media are singing his praises.
"He's a guy, obviously when we first got here, we thought of him as a third-down specialist, a guy that went in and just burned an edge and that was his primary role," defensive coordinator Jeff Ulbrich said of Huff after he was credited with a safety and two QB hits against Kansas City. "But the more he's in this system and the more we work with him, this is a guy, I think, that has the potential to play every single down. He's a tremendous asset for us. It's hard to classify if you're a one, a two, a three, or a four within our system because we rotate so heavily, but we are so fortunate to have this guy, because he is an elite rusher. And now that he's starting to really develop his run defense, he's a guy we can use on all downs. So, another guy I'm excited about."
In a real sense, Huff was unleashed in last Sunday's victory at Denver when he played his most defensive snaps of the season 28 (44%) and saw more time on first and second downs. After five games, Huff leads the team in total pressures (25) even though he's taken 87 pass-rushing snaps (fifth-most on the D-line), according to Pro Football Focus. That puts him in some rarefied company -- PFF has Aidan Hutchinson and Maxx Crosby (34) leading the league, followed by Michah Parsons (29) Chase Young, Nick Bosa and T.J. Watt (all with 27). 
"After my rookie year [2020], Joe D. [GM Joe Douglas] at an exit meeting told me that there will be a new set of coaches [Robert Saleh, et. al.] and that I'd have to prove myself," Huff told Eric Allen on this week's edition of "The Official Jets Podcast." "I attacked the offseason, knowing what was on the line. I transformed my body. That extra pressure really pushed me to elevate my game and skill set."
That physical transformation has brought the 6-3 Huff from 240 pounds when he joined the club as a UDFA out of Memphis to the sculptured 263 pounds he now carries. 
"I remember coming in my rookie year, I thought I was fit and a big dude," he said. "Now I look way different. I've been here every offseason training with the staff and getting better, refining my process and sticking to it everyday. It's built over time to where I am now."
As Ulbrich said, Huff has been seeing more times playing in run defense. Against Denver, when QB Russell Wilson found some early success gaining ground in scrambles (as KC's Patrick Mahomes did the week before), Huff was tasked with being the Jets' "spy" -- a defensive player following the QB. That was his role when second-year DL Jermaine Johnson sacked Wilson for 11 yards in the third quarter, and in the fourth when Johnson chased Wilson out of the pocket for a 2-yard gain on a third-and-14 play before the QB fumbled out of bounds.
"He's a shifty dude," Huff said of Wilson. "We have a three-man rush, I wanted to get home anyway we can. Jermaine came around the edge with full effort. I was about to pull him up and Jermaine came around. I like it [being the spy], I can run down the quarterback. To get a free go on quarterbacks is pretty cool." He added: "We were getting after him a ton, especially in the final two minutes."
That's when LB Quincy Williams tracked down Wilson and logged a strip/sack that enabled CB Bryce Hall to scoop up the ball and return it 39 yards for the clinching score.
According to Next Gen Stats, Huff has a QB hit for every 17.5 defensive snaps, fourth-best in NFL among all defenders with at least 100 snaps. He also has a QB pressure for every 5.83 defensive snaps, No. 1 in the NFL among all defenders with at least 100 snaps.
On Wednesday, Saleh said of Huff: "He's done a great job, he's really improved in regard to the run game. He's remade his body since he got here and became more than a [third-down] specialist. He's forced his way to playing on first and second down. We know what he is in pass game, if can continue trending in the right way in the run game he's got a place."
As he continues to produce, Huff will increase his time on the defensive line and could decrease his time playing on special teams.
"I feel like just staying consistent, give full speed off the ball," he said. "And having a group of guys, Quinnen [Williams], JFM [John Franklin-Myers], Jermaine, all the guys putting in the work. I take things from all their games and add it to mine. I get the result by being with so many great dudes, taking all kinds of things, especially from Carl [Lawson] -- my hand placement get-off angles, on and off the field. Learning how to recover and watch film and attack the game differently. It's helped me become the guy I am today."
Like Franklin-Myers, who was a waiver signing, Huff came to the Jets with little fanfare, but big expectations -- at least on his part.
"I knew regardless I would find a way to stick in the league, it's what I've always wanted to do," he said. "When I got here and saw the guys competing, I knew I could make a name for myself with just hard work. I stick to that every day."