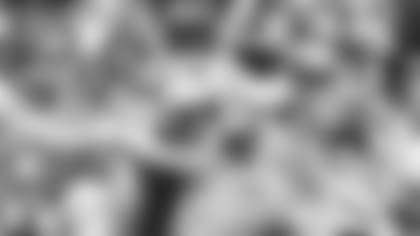 This time last year, CB Bryce Hall was finishing his rookie season that didn't have any reps in the spring, the summer or the early fall. He made his NFL debut in Week 9 of the 2020 season coming off an ankle injury that cut his senior year short at Virginia. In the 2021 season, he was the only Jets defender to start every game and led the team with 1,169 snaps.
"It's a huge blessing any time you can get throughout the season healthy," he said. "You see so many people don't make it, but I'm just grateful I had a full healthy season. I feel like it really helps me learn as a player. I've learned so much, I'm in so many different scenarios, I'm able to get more experience, the repetition. Any time you're on the field that many times, in those situations and moments, I feel like I just grow and become more confident as a player being out there."
He added about his development: "My biggest growth was becoming more comfortable with this scheme and understanding the nuances of it, really just the ins and outs with it. I felt like each game I got more comfortable knowing where my help is, knowing the strengths, the weaknesses, what can I communicate to make sure we're on the same page. Just kind of continuing to grow that continuity. I felt like I did well as far as being able to use my length and my size at the line of scrimmage, batting balls away and things like that."
In addition to leading the team in snaps, Hall's 86.3 PFF tackling grade is first in the NFL among cornerbacks who took at least 80% of their teams' snaps and second among CBs with 50%. His 14 pass defenses is tied for second in the league, his 59.1 reception percentage is tied for 10th, his 3.7 missed tackle rate is third as are his 23 stops, which PFF categorizes as a "failure for the offense."
"I have to credit the coaches, they put me in position to be successful," he said. "Shoutout to TO [Tony Oden], my position coach, on and off the field. He's been a huge help to me. Coach [Jeff Ulbrich] has done a really good job. I feel like the preparation that I put in has really helped me be successful in a lot of ways this year. … There are some plays when you're in those moments and you don't script that up, that was just instinct and God-given talent and ability."
Hall, who didn't make an interception this season, is a selfless player. His two favorite plays of the season were rookie CB Brandin Echols' pick-six against the Dolphins and the defense's goal-line stand against the Bengals.
"On Brandin Echol's pick-six against Miami, I think the whole process of that and how that happened was really cool," he said. "I thought it was really cool because of the communication it started with. Michael Carter, he's a rookie, he saw something on the field and told B. B trusted and believed it. That's what this game is about. When somebody else knows something, you communicate it to your brother and you make a play.
He said of the goal-line stand: "We had thrown a pick, our receivers – Elijah [Moore] and [Denzel] Mims -- they chased him all the way down to the 1-yard line. Then we come out and we put a goal-line stand on those four downs and shut them down. I felt like that resembled our defense, the passion and the energy that we had and I think it set the tone the rest of that day."
The Green & White's defense, particularly the secondary, had a lot of moving pieces other than Hall. Three players started at CB opposite Hall and the Jets played close to 10 safeties in the back end. The unit didn't perform to its standard (last in the NFL in defense), but Hall is confident chemistry will help it improve in 2022.
"I think a lot of great defenses and secondaries, they have time on-task together," he said. "The chemistry is really solid and they're experienced. I think that time that we had this season, I feel like we grew so much. It's going to propel us having that chemistry, those same guys around each other, knowing what each other is thinking and knowing how we prepare and what to expect from each other. Having that trust, I think that's going to take us to another level."
See the top black & white photos from the Jets' 2021 season.