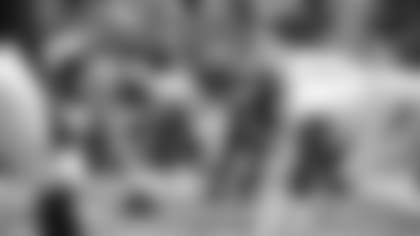 The start to the Aaron Rodgers "era" of New York Jets football will begin as expected — with the Jets' vaunted quarterback watching from the sidelines — when the Jets open their preseason schedule against the Cleveland Browns on Thursday night at Tom Benson Hall of Fame Stadium in Canton, OH.
"We're just trying to get the young guys a lot of playing time, see what we've got in them," head coach Robert Saleh said this week. "We're not anticipating any of our starters playing and [only] a couple of vets, for that matter, so it's going to be a lot of young guys running around and trying to showcase their skills and make the 53-man roster."
What that means at quarterback is that after Rodgers displayed his uber-leadership, high-energy, coach-as-a-player vibe entering the third week of Saleh's third Jets training camp, he will observe and perhaps get on the headset while Zach Wilson gets the start.
And Wilson, who started both of his Jets preseason openers in 2021 and '22 and the '21 season opener at Carolina, may get not only this start but all three other starts this summer. It would be neat for Jets fans to see Rodgers operating in game situations, to show his preseason passing form since 2008 (67.8% accuracy, 26/3 TD-to-INT ratio, 114.2 rating), which is even better than his regular-season stat line since '08 (65.3%, 474/104, 103.8 rating). But Rodgers hasn't played in a preseason game since Green Bay's 2018 Game 2 vs. Pittsburgh.
Saleh did tell ESPN this week that if Rodgers does play in the preseason, it would be for "a quick tuneup" at the Giants in the Aug. 26 preseason finale. Meanwhile, Wilson has become an eager student of Rodgers this offseason and camp and appears ready to let it rip regardless of the relative importance of the HOF Game.
"I love the way Zach is going about his business," WR Randall Cobb said Monday. "When you have a generational talent like Aaron that you can learn from every day, that'll help out in the future. He's taken that all in and I've been impressed with the way he operates and the way he handles himself in the huddle."
Every position group will have its band of young guys and selected veterans who will see action in front of the national TV audience. The offensive line will be one area of focus, in particular left tackle, with Mekhi Becton battling Billy Turner at the spot ahead of the return to action of last year's starter, Duane Brown.
Saleh said he and his staff "are anticipating that Mekhi plays" vs. the Browns. Becton, the former first-round selection working back from his latest knee injury, said he's preparing to participate in his first Jets game of any kind since the 2021 opener at the Panthers.
"I'm ready to go out and put my hands onto somebody else not wearing a green jersey," Becton said after Tuesday's practice. "So I'm excited, I'm ready to go."
The spotlight will also be on defensive line, with the inside getting a massive face lift from the additions of experienced veterans Al Woods and Quinton Jefferson, and with young vets Jermaine Johnson, Micheal Clemons and Bryce Huff being joined by "freakish" (Saleh's adjective) first-round rookie Will McDonald IV coming off the edges.
"I am excited and I'm just going to approach it the same way I do every practice and game," McDonald said. "Come out pumped, execute my job and do it to my best."
Including maybe even putting a hit on the opposition QB? "Hopefully, it'll be the first thing that I do," he said. "That's definitely going to make me happy in a certain way, as soon as I'm able to do that."
Game Notes
It's the Jets' third Hall of Fame Game in their 64-year history, and in each of the first two HOF games they started new-ish quarterbacks. Richard Todd, who as a first-round rookie in 1976 started one preseason game and six in the regular season behind Joe Namath, started the Jets' 20-6 loss to Chicago at then-named Fawcett Stadium to open the 1977 slate. Browning Nagle, who played very little as a second-round rookie in 1991, got his first start as a Jet in 1992 in Canton, opening the 41-14 win over the Eagles.
In the Jets-Browns summer series, the Jets are 2-0. They posted an 11-7 win over Cleveland in their first international game, at Montreal's Olympic Stadium in 1988. The teams' second summer meeting was not played in Canton but up U.S. 77 in Cleveland, and it was significant for several reasons. Before the game, Brett Favre was introduced as the Jets' new QB after they had completed a trade with Green Bay hours before kickoff in the Jets' 24-20 win.
Regardless of whom the Jets put on the Tom Benson Hall of Fame Stadium field, Saleh has had summer success since taking over the program in 2021. His Jets are 5-0-1 in the past two preseasons, and the Jets have been unbeaten in their last seven summer games (6-0-1), starting with the 2019 preseason win over the Eagles. The Jets under HC Bruce Coslet have the longest preseason win streak at six straight, including their 5-0 record in 1992. And that streak included the '92 HOF win over the Eagles.