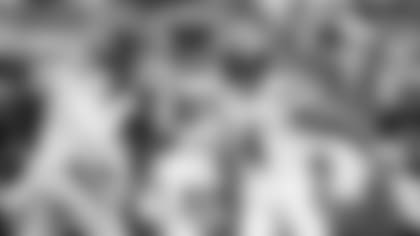 It's never easy when an NFL team loses its season opener at home, then goes on the road for Game 2 against an opponent that won its season opener on the road and is lying in wait to play its home opener.
But the 0-1 Jets say they aren't flinching and they're ready for their next challenge at Cleveland against the 1-0 Browns on Sunday. Head coach Robert Saleh explained why he likes his team to bust out soon, and it's more than just because the Jets are his team.
"I know that all the praise we've gotten in the offseason and the draft picks and the free agents, all of that is real. We have a really, really cool team," Saleh said. "Now it's on us as coaches to extract that out of them and get them to play better faster, which I think we will and I know we will. It's going to happen. When? We'll all know."
Can it happen as soon as Cleveland? Here are four areas of interest for the Jets and their fans heading into their second of four games against the AFC North to open their 2022 schedule.
Charging the Net
Saleh is still being patient with his Jets. He's got their backs when he's facing forward toward reporters and fan base. But he's also applying some pressure when facing inward. His message to his players, which he mentioned in the opening to this preview, is "better, faster."
"These guys are first-timers, a lot of them. Even the second-year guys, they're still pups," the coach said. "You're being put in a position where it's a heightened environment. Things are happening faster. There are so many different things on your mind. The game hasn't slowed down the way it needs to slow down for you. So little errors are going to be made.
"But the more you expose yourself, the better you get, the more comfortable you get, the faster you get, the slower the game gets, the easier it becomes. No one picked up a racquet in tennis and was a pro when they're 11 years old. You pick it up, you learn, and you just get better."
Joe Cool vs. Browns' Heat
The Ravens had their particular brand of pass rush that knocked Joe Flacco around some as he was sacked three times and hit 10 times. It seemed the Jets' tackles — George Fant switching back to LT and fighting through a sore knee, rookie Max Mitchell in his pro debut at RT — fared OK, and they'll have to be zeroed in for the Browns, who feature Myles Garrett and Jadeveon Clowney at ends and sacked Carolina's Baker Mayfield four times.
"I think it's a team effort when it comes to that kind of stuff," Flacco said about getting the ball out quickly to his receivers. "It's preparing for that and then it's everyone coming together on gameday and making sure we do our individual jobs, that's how you handle it best. But these guys are tough, they have a good front, they make you earn it. So we've got to be on."
The Young and the Restless
The Green & White have their proven weapons in their young and old veterans at WR, TE and RB. But two rookie skill position players factor into the offense as well. Both WR Garrett Wilson and RB Breece Hall started slowly as might be expected in their pro debuts — Wilson was targeted just once until the fourth quarter, Hall had a dropped pass and lost a fumble.
Yet both came together for a combined 113 yards of offense and became the first Jets rookie duo to each gain 50+ yards in a season opener. And both are pumped to see what Week 2 brings.
"Me and Garrett, we both don't feel like we even played that good of a game," Hall said. "So, just knowing that we got our feet wet and had that much of a presence in the game and just knowing that we could do some much better once we get comfortable, it's going to be fun for sure."
Wilson also savored that "special moment" for the two of them in the opener and their focus on "starting it off on a better note." And he's got another big game ahead since he's returning to the Buckeye State less than a year after playing his last game for OSU.
"It will be a really cool environment just to breathe that Ohio air again and play football. It will be awesome," Wilson said. "Hopefully I can have some flashes back to Ohio State."
Excitement on the Corner
If the Jets' run defense, coming off its strong showing vs. Lamar Jackson and the Ravens, can provide an instant replay vs. Nick Chubb, Kareem Hunt and the Browns, then it could be time for the new edge rushers to turn the pocket vise on QB Jacoby Brissett and for the new starting cornerbacks to really emerge.
Veteran D.J. Reed, playing with a heavy heart due to the death of his father, came up big with a forced fumble and a late interception — he was the first Jets corner with an INT and a force in the same game since Darrelle Revis in '08 and the first Jet since 2000 to do that in his first game in green and white.
Sauce Gardner, meanwhile, had a powerful PD at the goal line on tight end Mark Andrews, and both he and Reed played in all 56 defensive snaps. Might we see Gardner on another productive TE in David Njoku this week, or will the tandem plus Bryce Hall and Michael Carter II focus on WRs Amari Cooper and Donovan People-Jones?
"They were awesome," Saleh said. "We put those guys on an island. If you really go dissect that tape, we were very aggressive with our safeties and they did a great job pulling up back there. Very proud of D.J., to do what he did on Sunday is very, very difficult, especially with the emotional state he was in, so I'm really excited about those two."
See the top practice images leading up to the first road game of the 2022 season against the Cleveland Browns.