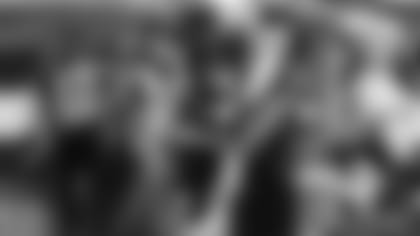 End of a Grueling Stretch
The Jets will leave Cleveland with either a 2-1 record and more road victories than they had in the entire 2017 season or they'll depart the shores of Lake Erie with a 1-2 mark while knowing they'll have to beat one of the AFC's best in Jacksonville in Week 4 to avoid a three-game losing streak. By midnight Thursday, Todd Bowles' group will have completed 19% of their 2018 season.
"It's tough. Three games in 11 days is tough overall," said the fourth-year head coach. "But you have to rely on the mental part of it and then try to make sure they're rested well physically and go from there."
The Browns haven't won in a long time — Dec. 24, 2016. After that 20-17 victory over the Chargers, the Browns went 0-16 in 2017 and have started 0-1-1 this season. They are 4-45-1 in their last 50 games overall, but this is an improved club that wants to make a statement in front of a national television audience.
"I feel good about our team. As I said yesterday, there is a good football team in that room. We just have not won yet," said Browns head coach Hue Jackson. "They are battling hard, and we played two really good opponents. We are going to play another one this week. It is not going to get any easier. We just have to keep working, and we have to find a way to get these games won. Our coaching staff is working diligently to try to help with that, but the players know they have to go do it. We are going to keep putting them in positions to do that."
Target Tyrod
The Jets' four sacks of Dolphins quarterback Ryan Tannehill in Week 2 were the defense's most since racking up seven sacks in last season's Week 9 Thursday night trouncing of the Bills. The quarterback that night was the same Tyrod Taylor they'll match up against in Cleveland.
"Stay alive," said OLB Jordan Jenkins, who had a strip-sack last week of Tannehill and also had two sacks of Taylor in that November contest . "Tyrod Taylor is definitely a mobile guy and he likes to hold onto the ball at times. You really have to focus on not giving up on your rush. If your first move doesn't work, keep coming back and don't give up early. Make sure you get him down because Tyrod is an elusive cat and you can't really come at him out of control, otherwise he'll shake you and probably get a completion and some positive yards."
The Browns are adjusting to life without future Hall of Famer Joe Thomas and Taylor has been sacked 10 times in two games.
Darnold In the Dawg Pound
After acing his first prime time performance against the Lions and then becoming the youngest quarterback to throw for over 300 yards in Week 2, rookie quarterback Sam Darnold will face a Browns defense that has been larcenous in the early going. The Browns lead the NFL with eight takeaways and the Jets have five giveaways. Two first-half turnovers against the Dolphins put the Green & White in a 14-0 hole they could never dig themselves out of.
"I think his guys are always ready to play every single game, they come out fiery," said Darnold of defensive coordinator Gregg Williams' unit. "At the same time, they bring pressures that sometimes no one has ever seen before. But at the same time, we're going to be ready. I'm focusing on what we're doing, but also focused on what the defense is doing and how we can attack them."
Freak edge rusher Myles Garrett has two sacks, but defensive tackle Larry Ogunjobi actually paces the unit with three QB takedowns. Rookie cornerback Denzel Ward, whom the Browns took the pick after the Jets tabbed Darnold with the No. 3 selection, had two interceptions of Ben Roethlisberger in Week 1.
A New Day
The Jets have a few players who have lined up for the Browns in recent years. Wideout Terrelle Pryor, who is second on the team with seven receptions, broke out in Cleveland with a 1,007-yard campaign in 2016 that included a six-catch, 101-yard effort against the Jets in Week 8.
"Dawg Pound. I love the atmosphere there, it's going to be electric, I believe," he said this week. "They have a great team, a great defense and we'll have our hands full like every Sunday, every Thursday, every Monday or whenever we play. Every game is a new day and we have to come ready to play."
The 6'4", 228-pounder is a harsh critic of himself, but he likes the chemistry that is starting to develop with his rookie passer.
"Not playing a game in almost a year and having that injury, I have to get back in it," Pryor said while referring to an ankle issue that severely limited him with the Redskins in 2017. "I'm getting back into it and I'm starting to play and run violently. That's something I talk about a lot is I want to run violent and I want to look violent on the field. I think I'm getting back to that and being better than I've ever been. I just have to continue to get better and continue to be the best team player I can be."
Gone In a Flash
After a tumultuous run in Cleveland, the Browns traded the ultra-talented and often-troubled Josh Gordon to the Patriots this week. The Jets could see Gordon later this season, but they have to be concerned about the now and that means rookie Antonio Callaway (3-81) and third-year veteran Rashard Higgins (6-85) will be relied on to fill the void behind Jarvis Landry. A fourth-round pick, Callaway is a big-time talent with wheels and it will be interesting to see how the Browns try to attack the Jets secondary.
"(Callaway's speed) can open up the offense for sure," said Taylor in the Columbus Dispatch article. "He's an incredible talent, and the opportunity is here for him to grow and for us to grow as a team, and we're going to need his playmaking ability to definitely step up for us to be successful as an offense."