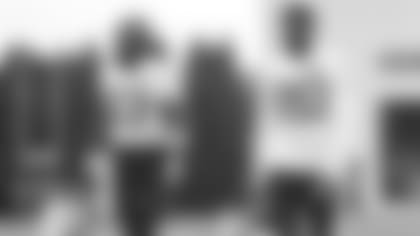 Look up one-two punch in the Jets Fans' Dictionary and you might see a photo of Breece Hall and Dalvin Cook. Hall, up to speed from his knee injury before last midseason, and Cook, the big-name free-agent RB practicing again after his offseason shoulder rehab, are together, along with Michael Carter and rookie Izzy Abanikanda, and ready to take on the Buffalo Bills and the '23 schedule.
"It will be great for competition, and it's going to bring out the best in everybody," Hall said of Cook's addition to the Jets' RB stew. "It's going to be fun."
How much fun? Here's a hint, with three noteworthy statistical for the two featured backs as the season is a little more than a week away from kicking off.
■ Hall gained 463 yards on 80 carries for an impressive 5.79 yards/carry before his injury in Game 7 at Denver. Since 1970, for all NFL rookie backs with at least 80 carries and at least 10 carries/game, only one tops that figure and that's the legendary Bo Jackson, who averaged 6.84 yards/carry on 81 carries for the 1987 L.A. Raiders. The 5.79 season figure is also the best for any back, not just rookies, in Jets history.
■ Then we add in Hall's 19 catches for 218 yards to get 99 offensive touches for 681 yards to get 6.88 yards/touch. Again for all NFL rookie backs since 1970 with at least 80 carries and at least 10 carries/game, that figure is superseded only by Jackson,
■ We mentioned this one before but we'll mention it again: Hall sped to a 62-yard touchdown run at Denver just two weeks after dashing 79 yards to the Dolphins 1-yard line in Game 5 at MetLife. Hall thus became only the fourth Jets RB, and the first rookie RB, to have a 60-yard rush and a 60-yard reception in his career. He joins the ranks Bill Mathis, Bruce Harper and current special teams assistant Leon Washington, who had three such 60-yarders combined. And TE Richard Caster also had a 60-yard run to go with his six 60-yards-plus catches, all from Joe Namath.
■ Cook is working on an active streak of four consecutive 1,000-yard rushing seasons with the Vikings. He and Cleveland's Nick Chubb the only two with current four-season streaks and the first two to do that since Marshawn Lynch and Frank Gore did it at the same time from 2011-14.
■ Mix in Cook's catches and we get 7,787 scrimmage yards in his six pro seasons, an average of 106.7 yards/season. That's second-most by any NFL RB from 2017-22 behind only Christian McCaffrey's 113.1 for Carolina and San Fran.
■ Cook can ignite an explosive play with the best of 'em. He's got six rushes of 50-plus yards plus two 50+ receptions in his six pro seasons. His eight 50+ plays are tied for fourth-most among NFL backs since 2017, with the Titans' Derrick Henry (17), the Giants' Saquon Barkley (15) and the Browns' Chubb (9) ahead of him and the Packers' Aaron Jones (8) tied with him.