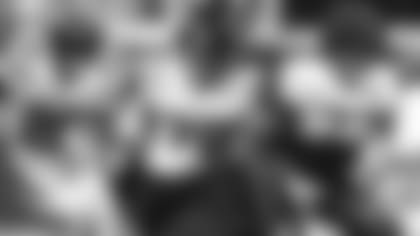 Game 7 at Denver was a highlight of the Jets' first 11 games, a venture 1,600 miles to the west and a mile high to take on a very tough Broncos defense in a challenging venue, then returning east with a closely fought 16-9 victory.
However, the Jets were also flying home with two of their outstanding young offensive players who were injured during the game and would not return to action the rest of the season.
"It was really tough for me," said Alijah Vera-Tucker, the versatile, athletic second-year man who was already starting at his third different O-line position in the early going when he hurt his elbow. "With the team on such an incline the first half of the season, and then obviously going down after me and Breece got hurt, it was tough. It would be tough on anybody."
"After I went down, I felt the offense wasn't the same, and I put that on me," said dynamic rookie RB Breece Hall, whose knee gave out on a toss sweep on the Jets' very next offensive play, separated by a long Broncos field goal drive, "That's why they drafted me, to be a playmaker. When the playmaker goes out and you lose AVT at the same time, the offense looks at each other and says, what are we going to do now?"
The Jets offense had a lot of fighters and the team won two of its next four games, but the departures of Hall and Vera-Tucker, plus the season-ending training-camp knee injury to massive third-year LT Mekhi Becton, couldn't help but take a toll on the unit and the team.
Fast-forward to today, 24 hours or so after the Jets concluded their 7-10 season at Miami. "Baggie Day" is a day for the media to hear from most of the roster as the players pack up their belongings and head home for a little down time before returning to One Jets Drive for the spring start to the offseason program.
All three young offensive pillars, Hall, AVT and Becton, stopped for "exit interviews" with reporters and provided upbeat news about where they are in their rehab.
"I'm actually doing really well in rehab," Vera-Tucker said. "The training staff, they've got a good program for me, and the majority of the offseason I'll just be getting right, doing what I can do to get back 100 percent healthy."
"I know just meeting with my doctors and my surgeon, they think I'm ahead of schedule, doing really good," Hall said. "I'm just staying good on my nutrition and making sure I come in and work the hardest I can every day. ... I'll be ready for whatever the coaches need me for. I feel I'm recovering at a faster rate than normal, so I think I'll be fine."
Becton also gave a favorable report on his knee as well as his weight.
"I'm really close to being able to do football stuff," he said. "I lost a lot of weight — as you can see, I look real skinny now. ... I've just been up here every day doing extra work, getting in the weight room and doing extra cardio. I'm just putting in the work."
All three youthful Jets who are now veteran members of the Green & White say they'll be staying around the North Jersey area to continue their rehab on through the spring and the team's offseason program. They were all optimistic to be ready for the start of the 2023 season, but their exact returns won't be determined for a while and are always subject to change.
"You always think that way, the what-ifs," Vera-Tucker said about what effect the three injuries had on this season's team performance. "But we have a good team, a lot of guys that want to compete in this locker room, a lot of guys who know what it takes to get to where we want to be."