Quarterback Carousel: Jets head coach Todd Bowles announced Tuesday that veteran Ryan Fitzpatrick will lead the offense New Year's Day vs. the Bills. Fitzpatrick, who has finished the past two games after Bryce Petty exited with chest and left shoulder injuries respectively, has backed up the second-year passer since Week 13. Bowles had planned to give Petty the final four games of the season, but the latter ended up basically playing 8 ½ quarters of action. Fitzpatrick gets the call for a 11th time this this season, but this will be the veteran's 14th overall appearance. The 34-year-old Fitzpatrick, who set a franchise record in 2015 for most TDs in a season (31) while helping the offense set a franchise mark for total yards (5,925), has thrown for 2,500 yards in 2016 with 10 TDs and 17 INTs.
"I would say this has been the most difficult (season) just in terms of the expectations I had for myself, for the team, for all of those things," Fitzpatrick told the media this week. "For me to not meet some of that stuff definitely has been difficult."
Hackenberg Will Dress: Second-round pick Christian Hackenberg will be active for the first time in his NFL career. The Jets always want to use the rookie's opening season as a red-shirt campaign and he figures to stay on the sideline Sunday barring a Fitzpatrick injury.
"I've had plenty of time to learn, so I feel like I have good grasp of the offense and those types of things," Hackenberg said. "This week has been great getting reps. I think I'm ready whenever I need to be called upon, and if that happens, I know that I've prepared to the best of my ability."
"We had a plan for him going in when we drafted him. He's taken a lot of reps in practice," added Bowles of Hackenberg. "If Fitz gets hurt, he'll go in there and play. If Fitz doesn't, he won't play. But he's ready to play. He'll be ready to play. Obviously with experience comes better play and you'll see a bunch of things, but putting him in right now isn't going to hurt or help him."
Red-Hot RBs: While Bilal Powell has been the Jets' top offensive weapon down the stretch, Bills RB LeSean "Shady" McCoy has had a fantastic season in Buffalo. The 5'11", 208-pounder, who ran for 281 yards against the Browns and the Dolphins, is up to 1,257 yards on the ground with 13 rush TDs while averaging 5.5 yards per carry. McCoy has also contributed 49 receptions for a Bills offense that is No. 7 in scoring at 25.9 points a game. Powell has also averaged 5.5 yards a carry, but he's had a smaller sample size. Powell's career-high 55 receptions trail only Brandon Marshall (59) and the versatile back is just 27 yards shy of his first season in the NFL with 1,000 yards of total offense.
Lynn Takes Over: Former Jets RB coach Anthony Lynn will serve as the Bills' interim head coach on Sunday. The Bills relieved Rex Ryan of his duties on Wednesday after he compiled a 15-16 mark in 31 games at the helm. After starting the year as Buffalo's RB coach, Lynn was promoted to offensive coordinator following the Jets' 37-31 win over the Bills in Week 2 and now he will lead them at MetLife Stadium on New Year's Day. Lynn has directed a Buffalo offense that ranks No. 7 in scoring (25.9 points per game) and is No. 1 in rushing (170.8 ypg).
"As far as the permanent head coaching job I'm really not thinking that far down the road because I don't want to miss out on anything right now," Lynn said Wednesday. "I want to stay in the now and I want to get this team ready to go out and play the best we can to beat the New York Jets."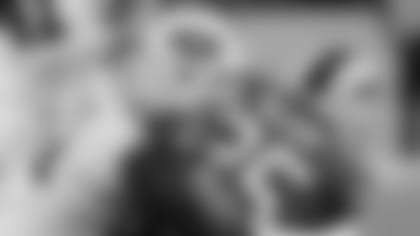 Carp Stands Alone: Left guard James Carpenter is the only member of the offensive line to start every game this season as LT Ryan Clady (shoulder), C Nick Mangold (ankle), RG Brian Winters (shoulder) and RT Breno Giacomini (back) all are on injured reserve. After signing with the Jets in the spring of 2015, Carpenter has started each of the team's past 31 games.
Current Draft Order: With both the Jets and the Bills playing their final game of the season, many fans are wondering about April's draft order. Through 15 games, the 4-11 Jets are in the No. 6 hole while the 7-8 Bills are in the No. 12 slot. The last time the Jets selected No. 6? They came away with USC defensive tackle Leonard Williams, who was named first alternate to the AFC's Pro Bowl squad.
"We'd like to think we're closer than further away, and I think we have a few pieces that we need to add here and there," Bowles said this week of the Green & White's prospects beyond 2016. "But I think we'll be fine."