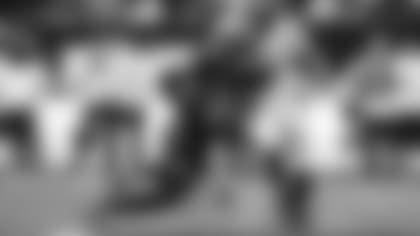 The Jets' second home game of 2022, against Cincinnati at MetLife Stadium on Sunday (kickoff at 1 p.m. ET), is a special game. In part, that's because it's the next game on the schedule. But also in part, Jets Legend Nick Mangold will be immortalized as the 19th member of the team's Ring of Honor at halftime.
But before the ceremony, before the football is kicked off, and after creating an incredible atmosphere at the home opener against Baltimore on Sept. 11, the Jets are asking fans to proudly sing the national anthem at every home game this season. Be in your seats early and then stand and help continue this new Jets gameday tradition. This week's anthem will be led by Isa Rodriguez.
In between the Star Spangled Banner and the star-studded halftime and on until around 4 o'clock, the Jets will attempt to vanquish Cincinnati for the second straight season at MetLife, following up on last year's impressive 34-31 win over the Bengals led by backup QB Mike White. Today QB Joe Flacco leads the Jets into battle once again. Here are five areas of interest leading up to the game:
Joe Cool Seeks Another Smokin' Start
It could be Flacco's last start in a while, with second-year starter Zach Wilson getting closer to returning from his right knee injury. But as Flacco said of his temporary role, "That's my job and I'm happy about it." If he can orchestrate another victory anywhere close to the growing excitement and fantastic finish of last week's 31-30 comeback at Cleveland, that would be rewarding for Jets Nation.
It would be Flacco's second win as the Jets starter and it would raise the Green & White's record to 2-1, which would be the first time the team would have a winning record this late in the season since going 3-2 in 2017 Week 5. It would also be the Green & White's 10th win in their last 11 home games over the Stripes.
Yes, it would be only one win, three games in with 14 more to go. But it would be one more measure of progress that the Jets are making under second-year head coach Robert Saleh.
Options from Wilson to Uzomah
Flacco's offensive options could grow as he grows more comfortable with his skill players. Rookie WR Garrett Wilson is coming off his 102-yard, two-touchdown receiving performance and, he said, he wants to "just keep on getting better." Rookie RB Breece Hall scored his first pro TD against the Browns. RB Michael Carter erupted for a career-high 172 scrimmage yards in last year's Cincy win. Elijah Moore, a quiet contributor so far this season, had his first big receiving game as a pro vs. the Bengals (six catches, 67 yards).
And C.J. Uzomah returns from a game on the sidelines due to a hamstring pull, intent on getting his first of many receptions as a Jet after seven seasons and 163 catches as a Bengal.
Cincy: Strong O, No W's
The Bengals have their own dynamic trio in QB Joe Burrow throwing to dynamic WR Ja'Marr Chase and handing off to RB Joe Mixon. And the offense has moved the ball — it's third in the NFL in first downs and second in possession time — but has had trouble scoring points and finishing games.
The Bengals followed the same script in both of their losses to open the season. In the 23-20 overtime loss vs. Pittsburgh and the 20-17 defeat at Dallas, they fell behind by 17-3 in the second quarters of both games but then outscored their opponents 14-3 in the second halves of both games. Which will it be against the Jets? Slow start, fast finish. Or befitting a defending AFC champion, fast start, faster finish.
"They're definitely going to be hungry," Jets WR Corey Davis counseled. "Their record doesn't show how good they are. We've got to be ready for whatever."
The Heat Is On
One problem area for the Bengals dating to last season is their protection of Burrow, who's been sacked league highs of 13 times this season and 64 times in the last 20 weeks. But can HC Zac Taylor and his staff get the pass pro on track against a Jets defense that will be primed to bring the heat?
Carl Lawson, a Bengal his first four NFL seasons, got a half-sack to whet his appetite and get him ready to lead the charge against his former QB. And Saleh has added just a little extra pressure on his pressure group — he wants more from his front four. "It hasn't been bad, but I've said before, to whom much is given, much is required," the coach said. "So I'm just expecting a little bit more out of that group."
That Halftime Show
Mangold will get the Jets' season-long Ring of Honor tributes off and flying when he's inducted into the Ring at halftime. (D'Brickashaw Ferguson will enter the Ring in October and Darrelle Revis in November.) It doesn't always work out that such ceremonies inspire the home team, but in the two most recent ROH tributes, the Jets nailed down victories — by 38-20 over Miami in 2015, when Emerson Boozer and Matt Snell were inducted, and 23-20 in OT over Jacksonville in 2017, when Kevin Mawae got his green jacket and recognition.
And with one superb center following another marvelous middleman into the Ring, it would seem a great day for the Jets to stand front and center and put on a display of homefield advantage for the visiting Bengals.
See the top practice images leading up to the Week 3 matchup against the Bengals.