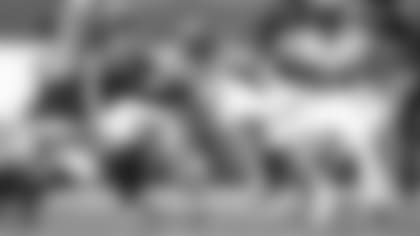 The Jets fell to the Bengals, 27-12, at MetLife Stadium in Week 3. Here are three takeaways from Sunday's loss.
Tackle Turnover
The Jets continue to have continuity issues along the offensive line.
George Fant, forced back to LT to start the season after Duane Brown sustained a shoulder injury in practice, left Sunday's game with a knee injury. He was replaced in the lineup by Conor McDermott, who had been inactive on gameday until Sunday.
The Jets also got bad news on the injury front when LB Quincy Williams, who had seven tackles and a 1 TFL, was carted off the field with an ankle injury after stopping TE Chris Evans for a 4-yard gain on a third-and-5 preceding a fourth-down stop on the NYJ 19-yard line with the Bengals up 27-9.
"I talked to him to make sure he's in good spirits and stuff like that," DT Quinnen Williams said of his older brother. "I didn't really talk to him about the injury. I just wanted to get him laughing and talking to him about the play he did get injured was an amazing tackle first and foremost. Then we stopped them on fourth-and-1. I was just laughing and joking saying we stopped them because of you."
Saleh was unsure if Williams' injury is season ending and the fourth-year backer will be evaluated Monday.
Gardner Flashes
Even though Bengals QB Joe Burrow passed for 275 yards and 3 TDs, Jets rookie Ahmad 'Sauce' Gardner stepped up against WRs Ja'Marr Chase, the 2021 Offensive Rookie of the Year, and Tee Higgins.
Gardner, who played collegiately at Cincinnati, flashed his closing speed, ability to find the ball and then his dog mentality late in the first quarter. Burrow looked for Chase down the sideline, who was blanketed by Gardner. Gardner then ripped the ball loose from the star receiver, preventing a 50-plus yard connection.
"Everybody says he's the best and I was ready for it," Gardner said of Chase. "He had no catches, so I feel like I did what I had to do. But it's not about me — it's about the team. We have to be able to do what we have to do as a collective. We have to be able to communicate and execute on defense."
Then in the second quarter, Gardner forced a Bengals punt when he locked up Tee Higgins down the home sideline and registered his second PD of the half. In the third quarter, Gardner was credited with a TFL on Chase's fourth-and-1 run stuff.
"I thought he did a good job," HC Robert Saleh said. "They tried him a couple times early, they got one of them. He was in really good position, just have to go find it. If quarterbacks keep trying, he's going to find it. I was really pumped with the way he played especially early."
Hall Pass
Rookie Breece Hall continues to show his versatility as he received an increased workload Sunday. Hall was targeted 11 times by Joe Flacco and finished with 6 catches for 53 yards. He and Michael Carter both had 39 rushing yards, and the Iowas State product led the backfield averaging 4.9 yards per carry.
A couple of those early grabs kept drives alive as Hall got 18 on a third-and-3 early in the second and then displayed his elusiveness on a 7-yard gain after the two-minute warning on a third-and-4.
"He's really good in the pass game," Saleh said. "Obviously, we have to find some more opportunities for him, but he's a dynamic back. Just get the ball in his hands somehow and he can make something happen."
See the best images from the Week 3 matchup between the Jets and Bengals at MetLife Stadium.