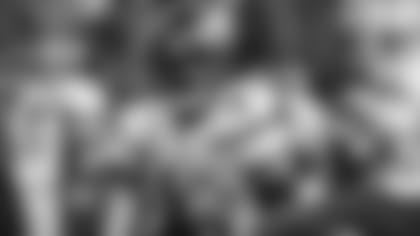 The Jets enter the NFC North phase of their schedule with Sunday's MetLife meeting with Chicago. They play three of that divisions four teams in the next four weeks, with the opportunity to go undefeated against an NFC division for the first since their 4-0 record over the NFC Central in the strike-shortened 1982 season.
But that, of course, is trivial. The Jets' big reason, as they flex their powerful defense and start a new chapter at quarterback, to go unbeaten vs. the North is to continue to enhance their prospects, with seven weeks remaining in the regular season, as a playoff participant for the first time since 2010.
Here are four key areas of the Jets-Chicago game that, ahem, bear consideration during Sunday's interconference battle:
Jets: Changing Who's in Charge
Mike White takes the ball from Zach Wilson as the Jets' starting quarterback, with a very limited but very promising body of work in four games, three starts in 2021, including his remarkable performance in his first pro start against Cincinnati. Can he catch fire in a bottle again and for a longer stretch? Head coach Robert Saleh thinks so: "Mike's won games with us, he does a great job in practice, he's done a great job in games, he's extremely competent as a quarterback, and he's got the ability to make all the throws on the field and run the offense in the manner that we need to."
With the expected return of WR Corey Davis and maybe one or two right-side O-linemen starters in rookie RT Max Mitchell and feisty RG Nate Herbig, perhaps White is surrounded by enough talent to successfully take on the Bears' vulnerable defense. And a big boost would come if White can elevate the Jets' 29th-ranked third-down defense against Chicago's 31st-ranked third-down D.
Bears: QB Kaleidoscope?
Justin Fields has turned into an exciting performer as Chicago attempts to rise up from its fourth season of .500-or-lower football. The second-year quarterback who wears No. 1 is the Bears' leading rusher, not to mention one of the NFL's top running signal-callers along with Lamar Jackson and Josh Allen with 834 rushing yards, a 6.84 yards/carry average and seven rush TDs. But as with all mobile NFL field generals, there is the danger of injury, and Fields got zapped last week at the Falcons with a hamstring injury and what he said was a separated left shoulder.
Will he play vs. the Jets? HC Matt Eberflus has been tight-lipped on the subject. Fields was limited in practice this week, and even if he plays, his rushing prowess is blunted a bit by the shoulder and by the fact that he's also the league's most-sacked QB this season. And the Jets' pass rush, led by the triumvirate of Quinnen Williams, Carl Lawson and John Franklin-Myers, is now performing at historic franchise levels with 17 sacks in the past three games. Fields' backup, former Jet Trevor Siemian, is also sackable, so who starts and how well he stands up in the pocket for Chitown will have a big bearing on this game.
Happy and Unhappy Returns
The Jets were burned by rookie Marcus Jones' last-second game-winning punt-return touchdown last week. But at least that was their only return TD allowed this season. The Bears have given up four return scores — and all came, one per game, in the past four weeks. Two were on defensive returns, one was on Cordarrelle Patterson's kickoff return for the Falcons, and one came on a return of a blocked kick off of rookie P Trenton Gill's foot.
The Bears are in dangerous territory here. They're already tied for the fourth-longest streak of return TDs yielded since 2000, with a fifth vs. the Jets raising them to five straight games and a second-place tie. Teams that allow a return TD in a game this year are 11-30. And you know there are Jets players eager to take advantage. CBs Sauce Gardner and Michael Carter II have lost long turnover returns in the past three games, Braxton Berrios would love to crease Chicago's kick coverage (tied for 16th in punt-return average allowed, 31st in average KO return average). And anyone could score off of a strip sack, of which the Jets defense has five in the past six games.
Jockeying for Position
It seemed disastrous for the Jets to lose to New England a second time and fall to 6-4 and out of the AFC postseason grid, to eighth place in the conference. But the playoff picture is like Buffalo weather: If you don't like it, wait five minutes and it'll be different. While the Bills won at Detroit on Thanksgiving Day, the Patriots lost at Minnesota on Turkey Night, lifting the Jets back into seventh and the final playoff seed and dropping New England to eighth at 6-5.
This will change again ... and again ... in the last seven weeks of the regular season. Most important for the Green & White is to win games, especially in the three remaining favorable home contests (Chicago, Detroit, Jacksonville, 10-22 combined record, .313 schedule strength) with the four road games providing a steep challenge (Minnesota, Buffalo, Seattle, Miami, 30-12, .714 SOS).
See the top practice images leading up to the Week 12 matchup against the Bears.