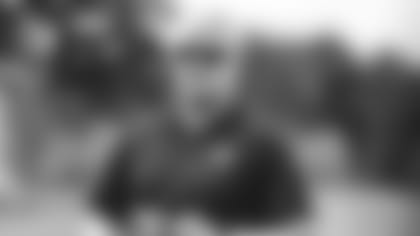 Rex Hogan has been the Jets' assistant general manager for three years, since returning to work for the Green & White in June 2019. Over that span, working with GM Joe Douglas, the Jets have turned over 97% of the roster. The last three drafts have yielded 26 total selections as Hogan has worked with Douglas and the team's player personnel staff while overseeing the college and pro scouting departments on personnel decisions and evaluations.
The week after the final preseason game, against the Giants, brought additional turnover as the Jets and the rest of the NFL were required to cut rosters to 53 players ahead of the start of the regular season. Seven of the players cut by the Jets were picked up by other teams, the most throughout the league. The Jets filled 13 of their 16 practice squad slots with players who spent at least the entire preseason and practicing for the Green and White.
"The tough thing as a roster gets better is that these decisions and the cuts get harder," Hogan told team reporter Eric Allen on an edition of "The Official Jets Podcast." "And this was by far the toughest one we've had since the 2019 season. Our coaches have done a great job of developing the players and making them candidates to have options.
"There were four other guys claimed in the past couple of weeks. We released Eddie Piñiero and he signed with Carolina, so it's 12 guys off of our training camp roster who are now with other teams. It's cool, but it's tough for us because, at the same time, we've selected and brought them in to develop. But we wish them the best."
That's life in the NFL where one man (or more) is dropped, meaning there's opportunity for someone else. That's exactly what happened last week when the Jets initially retained undrafted free agent Zonovan "Bam" Knight, a running back, and UDFA safety Tony Adams. The speedy Adams has been "dominating special teams," according to head coach Robert Saleh. (Knight was released after the Jets re-signed OL Conor McDermott and re-signed to the practice squad Tuesday.)
For Hogan, particularly in relation to Adams, it was a case of the Jets running out of draft picks this past April after making three first-round picks (CB Ahmad "Sauce" Gardner, WR Garrett Wilson and Edge Jermaine Johnson), one in the second round (RB Breece Hall) and two in the fourth round (OL Max Mitchell and Edge Micheal Clemons).
"We always had identified Tony as a guy that we wanted on our roster, whether obviously through the draft or signing in free agency and we're fortunate he slid through it and we get him to come here," Hogan said. "He's active, he's energetic. He's always had a smile on his face and he came in with this mindset of 'I'm gonna take someone's job' and it comes out in how he plays. He plays with urgency and intensity."
Another player whose performance in the preseason and dedication to his craft helped him force his way onto the roster is Lawrence Cager, a wide receiver who bulked up and is now a tight end. The decision to keep Cager might have surprised some people, especially since the Jets signed two veteran TEs -- C.J. Uzomah and Tyler Conklin -- in free agency, and drafted another -- Jeremy Ruckert. Cager was signed by the Jets as an UDFA in 2020 and spent the 2021 season in Cleveland before returning to the Jets this past January on a reserve/future contract.
"We always saw him as a big-bodied [6-5] outside receiver, but we always saw the frame and he's got long arms and he's broad shouldered," Hogan said. "He's well-built and we thought he could bounce from 217 to 230. And you saw the growth potential. He really bought into the offseason training. His body continued to grow; he's around 240, if not north of 240.
"He's maintained his receiving value and probably improved it because of the tight end value. And he's really improved as a blocker. I'm sure he had a moment of some adversity like we all do, and looked at himself in the mirror and said, 'What else can I do differently? How can I change my path and change my future?' And it's a humbling experience when you get cut and then have to realize, I gotta find a different way. So, I'm really proud of Cage accepting that and then having the self-awareness that I'm gonna be able to do this. He's in a pretty cool room now."
See the 53-man roster in photos leading up to the 2022 season.