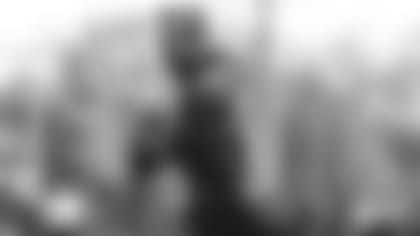 Assistant general manager Rex Hogan has worn a couple of hats during his six seasons with the Jets and logged countless hours, days and weeks in meetings, watching film and dealing with the day-to-day operations of the team's player personnel department.
But no week was quite as tumultuous and exciting than the last week of April. It was the culmination of a flurry of events that were set in motion back in January when first Chairman Woody Johnson, followed by GM Joe Douglas and HC Robert Saleh went public with their intention to land a veteran quarterback as the "missing piece," in the words of Mr. Johnson.
So, on that faithful Monday, April 29, only a few days before the NFL Draft kicked off, Douglas, Hogan and their staffs were in a meeting.
"Joe had to step out of the meeting to finalize some calls," Hogan said. "We were in there waiting. I was able to step out and see him. He had this huge smile on his face, a sense of relief."
He said: "We got it done"
Aaron Rodgers, a four-time NFL MVP, was a New York Jet.
"Everyone was clapping, there was cheering, hugs," Hogan said. "It was a special moment, to see all the work Joe put into it. It was a cool moment."
Though there were several months between the Jets' statement of intent and the day Rodgers rolled up to 1 Jets Drive for his introductory press conference, Hogan said that the team's resolve and persistence began that day after the conclusion of the 2022 season.
"Obviously we couldn't have done it without the support of Woody and [vice chairman] Christopher [Johnson]," Hogan told team reporter Eric Allen on this week's edition of "The Official Jets Podcast." "It was a huge undertaking. Awesome, incredible getting set up first talking to the staff, hiring [OC Nathaniel] Hackett, adding to off coaching staff and how you marry that up with the available quarterbacks and free agents. Obviously, it worked out. It was cool to go through the process and have the experience with Aaron and other free-agent quarterbacks. It was a meticulous process that Joe spearheaded with the Packers and that came to fruition."
Before coming east to the Jets, Hogan, a Tennessee native, spent 12 years with the Bears as a national scout. He then moved on to serve as the vice president of player personnel for the Colts. During his time at Soldier Field, the Bears reached Super Bowl XLI [losing to Peyton Manning and the Colts] and the 2010 NFC title game [falling to the Packers and that guy wearing No. 12].
"I was asked about [those games vs. Rodgers and the Packers] in the press conference," Hogan said. "We got our hearts ripped out so many times, because of what he does on the field. At any moment he can throw a dart and get 6 points. The way he sees the field, the arm talent, that's the way he's done it for 18 years. It will be great to be on this side of it and see him rip the heart out of some of our opponents.
"He's the most natural passer in the history of the game. He can change arm angles, is at a different level in the pocket or outside. He can do it all and do it at a high level even at this point in his career."
As one of the busiest men in the NFL, overseeing a far-flung scouting department and assembling terabytes of data on prospective draftees, Hogan's and the Jets runup to the NFL Draft received a rocket-like boost when Rodgers showed up at the Atlantic Health Jets Training Center. Not only to check in, but also to get right to work during voluntary workouts. Next came the three big days that Hogan and his staff had prepared for all year.
"You mix it all together and let's roll," he said. "We just adapt. The scouts and personnel people do an unbelievable job adjusting, how we take each piece leading up to the draft then go straight to the draft."
Since the start of the Douglas/Saleh partnership ahead of the 2021 season, the Jets have turned over the roster by more than 90%, signing strategic and value free agents (most recently Allen Lazard, Randall Cobb and Wes Schweitzer among them), drafting quality and quantity (from Alijah Vera-Tucker to the Offensive and Defensive Rookies of the Year in WR Garrett Wilson and CB Sauce Gardner). Finally, beating the bushes for undrafted free agents (like S Tony Adams and RB Bam Knight).
"I don't know the exact numbers, but they're significant," Hogan said, referring to the turnover. "With the number of picks in the last couple of classes, and with the undrafted free agents in addition to the NFL free agents, there's been a ton of turnover. In this day and age in the league, with free agents and one-year deals, guys are moving around more, the turnover has been huge. [This year] we went from a young team, and I think we're more balanced. Some of the younger guys are in Year 2 or 3, by infusing with free agents we've added that experience, with leadership on both sides of the ball."
After knocking it out of the park in the 2022 NFL Draft (Gardner, Wilson, Breece Hall, Jermaine Johnson, Max Mitchell, Micheal Clemons and Jeremy Ruckert), Hogan and his staff geared up for last month's draft and came away with promising players who will compete for places on the 53-man roster.
Hogan offered these observations on a few of the picks and how the Jets let the board come to them early, before making moves to increase the haul to seven players:
• "The phone didn't ring on Day 1 or 2, so we had no options to move back. We even talked about it. Were phones broken? We talked about it that night about how to get more picks and talked Saturday morning. We were able to get two more picks [via smart trades] and get value."
• On taking Iowa State edge Will McDonald at No. 15 overall: "With 15 [a swap from No. 13 in the trade for Rodgers], we let it come to us. We had an eye on Will. We identified him as a natural pass rusher. Great size and length and a natural ability to trim the edge and bend the corner as a rusher. He will give us more outside more consistently. We're excited to add another guy who will play a significant amount of time and add to our rush. [D-line coach Aaron] Whitecotton likes to have different waves and guys will be fighting for playing time and that's a good thing to have."
• On Wisconsin center Joe Tippmann, taken in Round 2: "What led us to taking him are some of his traits, he's taller than the normal center. Joe has the unique ability to bend and change direction, move and get into space, which will be helpful in the run game and in pass protection. He has the ability to move his feet and to be able to at, 6-6, 315, that's a good problem to have."
• On Pittsburgh O-lineman Carter Warren, taken in Round 4 (the Jets did not have a third-round pick): "There's value to pass protection being on the left side. He has the ability and strength if we need him on the right side. At that point of the draft, it's where the board fell. We felt good about the value of Carter at that point.."
• On Brooklyn native and Pitt RB Israel Abanikanda in Round 5: "We were shocked, we thought he would at least have been gone on Friday night. He was probably one of top 100 players and he was sitting there on Day 3. We saw him fall down the board. He's such a good fit for our run game and scheme, and what he did at Pitt. With his speed when hits the second level, his speed is awesome. For the outside zone, we want guys who have patience to string it out and once they see a hole stick their feet into the ground, cut and out run the defense."