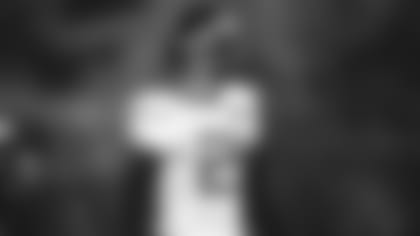 The Jets' defense will be under the microscope when the AFC East-leading Buffalo Bills come to MetLife Stadium on Sunday. And no position group will be examined and probed as much as the group of safeties head coach Robert Saleh will send out on the turf -- especially in the absence of veteran Marcus Maye, who is out for the season.
"Marcus is a really good football player and our safety position has taken quite the hit with the amount of players we've been through there," Saleh said on Wednesday. "Have a lot of faith in Jarrod Wilson, who has been here since the start of the season, and also have Sharrod Neasman. Ashtyn Davis is working to get his legs underneath him and get within the groove.
"It's a safety group trying to work together and get that continuity, string a couple of games where we have the same guys out there so they can continue to improve and get better. Will it be a challenge? Yes. Do we have faith in our guys? Absolutely."
Maye joined two other safeties on IR: Lamarcus Joyner and Zane Lewis; and recently added rookie Elijah Riley to the roster.
Saleh's faith will certainly be challenged by Bills QB Josh Allen and his cadre of receivers, which includes WRs Stefon Diggs and Emmanuel Sanders.
Davis (6-1, 200), the second-year safety, had an up-and-down game at Indianapolis last Thursday night, when he pried the ball loose from two Colts receivers to force two fumbles in a span of three plays. The third-round draft pick in 2020 out of California knows he and the rest of the Jets' young defensive backfield will be in Allen's crosshairs, especially after the Colts racked up 272 passing yards.
He added: "I think we've all got to step up, communication will be at a premium -- it always was, now, especially with Marcus out. We have to make sure we know our stuff, get the motions and shifts, and be sure we're all talking and ahead of it."
It is usually not a good sign for a team when a safety (or safeties) are among the leading tacklers in a game. Davis and C.J. Mosley tied for the team lead against the Colts, each with 10 total tackles; with Davis getting 7 of the solo variety (before leaving the game because of an Achilles tendon injury, Maye had 6 total tackles). Davis was out on the field for all but one of the 62 plays (98%) the Jets defense faced.
The long and speedy Davis, 25, had surgery to repair a foot injury that ended his 2020 season. He was on the PUP list in the preseason and began the regular season on IR, which required him to miss the first three games. He returned to action, with Maye sidelined, in the Week 4 victory over Tennessee.
"My coming back from injury, things happened faster," Davis told reporters on Wednesday. "I was taking mental reps."
Asked how he feels about being the Green & White's highest-profile safety, Davis said: "With Marcus out, it falls on all of our shoulders. I'm going to do whatever I can to make the plays, but I can't and won't go outside my body. I'm not going to try and play Superman."
No one is asking that, only that the defensive backfield stays vigilant on Play 1 and Play 2, which Davis described as staying present and alert should Allen start to move out of the pocket and freelance.
"Once that internal clock goes off, make sure you're playing that second play," Davis said. "We know he can escape with his feet and make a play. Making sure guys sit down in zones when the play extends, make sure you're not just in your window. Be sure you make that second play."
This week, Davis finds himself in the unaccustomed role of the guy back there with the most experience -- he has played nearly every defensive snap in the Jets past three games. But even he concedes that there's a lot to learn, and he's been trying to get better each and every day. And he knows that the game against the Colts was not a shining moment for him and the entire defense.
"I'm a perfectionist, I expected to come off injury and be up to speed, and it's been super frustrating to how I want to perform," he said. "For me, that game [at Indianapolis] left a bad taste in my mouth. After, I did step away a little bit. I felt I did not do well."