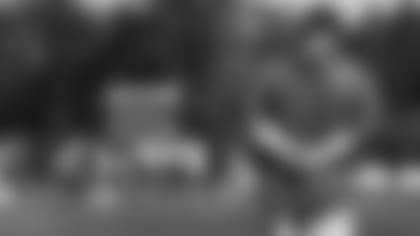 The National Football League's League Year begins next week and the New York Jets, equipped with more than $69 million in cap space according to OvertheCap.com, will have the flexibility to address a number of pressing needs. But Joe Douglas, who is in his second offseason as the club's general manager, hasn't changed his mindset.
"We are better positioned than we were at this time last year," he told reporters, referring to the Jets' financial standing. "Our philosophy and stance has not changed however. I think our goal and our plan is to be a team that really builds this through the draft and hitting on draft picks and using free agency to supplement our roster. If the opportunity and the value meet, that's going to be the point where we're going to be aggressive and get someone we feel good about helping this team not only on the field but with the culture and inside the building. While we are positioned better, I think our philosophy has stayed the same."
While the thinking remains unchanged, Douglas is working with a new head coach in former 49ers' defensive coordinator Robert Saleh and new systems on both sides of the ball. Many people have speculated that the Jets could have interest in players with San Francisco ties including a trio of corners in Jason Verrett, Richard Sherman and K'Waun Williams; defensive linemen Kerry Hyder and Solomon Thomas; and FB Kyle Juszczyk.
"There's always comfort in familiarity," Saleh said when asked about players he'd coached. "It's almost human nature to gravitate to people you've worked with and people you've been around, but there is still a process that you go to. There's a fit, there's a value, there are all those different things, a lot of moving parts that go into it. While, yeah, it would be great, it's not the main determining factor on whether we can get those players into the building."
The Jets will be busy in free agency, but there are multiple tiers in the process. During meetings, Saleh's staff had great exchanges with the personnel department about the roster and exchanged thoughts on each player, and what they are looking for in their schemes and position specific traits. After evaluating the Jets, the coaches were given external free agents the personnel department wanted them to evaluate and rank.
"Joe has made it very clear that he wants a collaborative, communicating," Saleh said. "He wants us to all be in this together — scouts, coaching staff, everybody within the organization speaking the same language and having a great amount of communication in regards to everything that happens in this building. Free agency and the meetings that we had were unbelievable. We got a lot accomplished over the course of that week and we're going to continue to do that. There's the old saying, 'If you want to go fast, go alone. If you want to go far, go together.' I think Joe believes that and he's been practicing and preaching that since the day we walked into this building."
On Tuesday, the Jets announced that they had placed the non-exclusive franchise tag on Marcus Maye. The designation ensures Maye will not become an unrestricted free agent and provides additional time for the Jets and Maye to work on a long-term deal. While the Jets have 18 unrestricted free agents, a number of clubs also tagged players before the league's 4 p.m. Tuesday deadline including: the Carolina Panthers (T Taylor Moton), the Chicago Bears (WR Allen Robinson), the Denver Broncos (S Justin Simmons), the Jacksonville Jaguars (T Cam Robinson), the New Orleans Saints (S Marcus Williams), the NY Giants (DL Leonard Williams), the Tampa Bay Buccaneers (WR Chris Godwin), and the Washington Football Team (G Brandon Scherff).
"I think Robert and I have been on the same page quite a bit," Douglas said. "I think we're both looking for explosive, dynamic playmakers that can come in here and not only be fantastic players on the field but high-quality individuals off the field."
And while the Jets will apply some new paint in free agency, their renovation is expected to be built upon the pillars found in the NFL Draft. The Green & White own the No. 2 and No. 23 selections in Round 1 and they have five picks over the first three rounds.