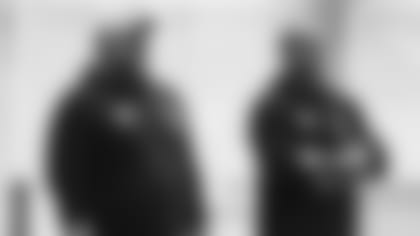 While Jets GM Joe Douglas said he has had productive conversations with the Packers on a potential trade for QB Aaron Rodgers, he is also continuing to browse the market to bolster one of the most intriguing young rosters in football.
The Jets need more numbers on the defensive interior after Nathan Shepherd (Saints) and Sheldon Rankins (Texans) departed in free agency. Douglas re-signed Solomon Thomas and the Green & White were scheduled to host DT Calais Campbell later this week in Florham Park, NJ before it was reported Campbell had agreed to terms with the Falcons.
The Jets are searching for a big piece for a defensive line that got a breakout campaign from Quinnen Williams in 2022. Williams, who had 12 sacks and was voted the Jets 2022 Team MVP, has expressed his desire to get a new contract.
"We're in a positive place there," Douglas said of Williams' talks. "No exact timeline for when that's going to get done but we've had good conversations with Nicole [Lynn] and still feel like that's in a positive place."
On offense, Douglas is reshuffling the wide receiver room. After signing the Packers' former WR Allen Lazard and the Chiefs' former WR Mecole Hardman Jr. in free agency, Douglas on Monday confirmed the Jets' interest in Odell Beckham Jr.
"I've had some productive conversations with Odell's agent, Zeke Sandhu," Douglas said. "Odell is obviously a really talented player. He worked out for several teams a few weeks out, so we'll see how that process works out. But we have had conversations."
The Jets have a solid group of wideouts led by Offensive Rookie of the Year Garrett Wilson. But Beckham, who has 531 career receptions and 56 TDs, could give the club another intriguing option for opposition defenses to deal with next season.
"I think the more weapons, the better. And this could be an opportunity to add a unique talent," Douglas said of Beckham.
After adding interior pieces Wes Schweitzer and Trystan Colon along the offensive line, the Jets have their eyes on former Titans C Ben Jones. A Pro Bowler last season, Jones was coached the past five seasons in Tennessee by the Jets' new OL coach Keith Carter.
"There is interest in Ben, another outstanding veteran, Pro Bowler last year," Douglas said. "You talk about tough, smart. Just a great leader, a great person."