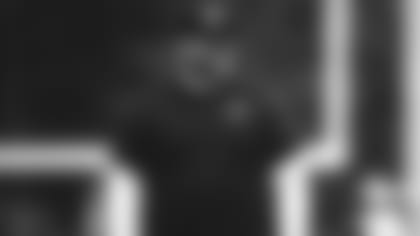 You could call Phil Savage, the Jets' senior football advisor, the team's emeritus evaluator of college and pro players. During his nine seasons with the Baltimore Ravens he overlapped with the Green & White's general manager Joe Douglas (then a scout) and consulted on Ravens' drafts that landed players like Jonathan Ogden, Ray Lewis and Ed Reed and others.
"His personality is the steady hand," Savage said, referring to Douglas. "I've said that since his arrival with the Jets. He's not going to be all over the place, he's going to be focused, driven. He's not going to let people see that something's bothering him, whether it's great or not going well. He's going to be a steady Eddie.
"You have to be that as a general manager. You can let your staff coaches have more emotion. As a general manager, it's all about what's next. Of course, there have been some challenges. I've told Joe he'd experience some things and he's dealt with the pandemic, the death of Gregg Knapp [the passing game specialist who died last July after being struck by a car while bicycling in California], these are things that are not in general manager's handbook. He's had to deal with those kinds of things. Every general manager goes through it. You feel like you've been in football your whole life, and now it's everything except the essence of the game. He has to be able to keep his focus on football. It's really the bottom line, the game. Joe has an excellent touch with the staff and the organization. I think he's found the right balance for himself.
"He's extremely thirsty for success. That drive is there for us to be a successful team. He has a lot of pride."
Savage has worn a variety of hatssince beginning his journey as a graduate assistant at Alabama in 1988 under head coach Bill Curry. He climbed up the football ladder, eventually joining the Jets in June 2019, bringing with him 20 years of experience working in the front office of NFL teams. He also served as the executive director of the Reese's Senior Bowl from 2012-18, a job that gives him a unique perspective leading up to next week's NFL Scouting Combine, free agency (which begins on March 16) and the NFL Draft at the end of April.
As Jets fans know, the team is champing at the bit this offseason, with nearly $50 million of salary cap space and four draft picks among the first 38 selections (two picks each in Round 1 and Round 2) and nine selections overall.
"It's an enormous opportunity for us to change this roster, upgrade and improve, and to bring in players we really want," Savage said. "We're going to get four top guys if we just sit still, four players that we really like. It's a huge opportunity to improve the team. One thing about the Senior Bowl, we had 110-120 players there, 60 or so on our side [the Jets staff coached the National squad]. In some ways we'll be able to put those guys to bed. The Combine and college pro days are all pieces of information. For the most part we have a nice book on the players on the team coached by the Jets. It gives us a chance to focus on other players. There are tangible benefits -- we were hands on, and we don't have to research these guys. We know everything about them."
When evaluating players, be they guys coming out of college or free agents, Savage said one criterion often outweighs all others: Do they love the game?
"The love of the game goes beyond what the game's going to give a person," he said. "What are they going to invest from a physical, emotional standpoint? Some of the best players -- I won't say they would play for free -- but it wasn't the millions that motivated them, it's that they want to be the best player on the field at their position, they want to make a name for themselves. Sometimes, they want to prove people wrong. Everyone has his own motivation. You can sense why a guy wants to play and what his real motivation is. It has to go beyond the dollars. It's such a long season and if you don't love the game it's going to be a really long season."
Looking back at the Jets' 2021 draft class, which yielded a half-dozen rookies or so who made major contributions, Savage believes that Douglas, his personnel staff, HC Robert Saleh and his staff hit on all cylinders.
"The great news about those players is, first of all, they got a lot of experience," Savage said. "The second was not just the talent they brought to the table, they all have passion for the game and the temperament that it takes to be successful. It gives us some confidence in 2022 to do some of the things we did last year because it worked. OK this is what we had success with in 2021, let's go in the same direction."
Though the team's record did not reflect the positive steps, Savage said that the late-season game against Tom Brady and visiting Tampa Bay at MetLife Stadium -- a disappointing loss -- went a long way to changing perceptions of the Green & White, inside and outside the organization.
"That Tampa Bay game, it was 58 minutes of our future and 2 minutes of our past," he said. "That was a game where the vast majority played their best football as a collective. We weren't able to finish, that comes from inexperience. I think the future is bright if we can nail free agency and the draft. I have confidence we can do that. There are players out there, we just have to get the right ones."