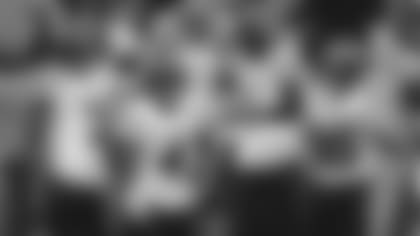 It's been said that in the NFL, rankings and statistics are for losers. But sometimes those numbers can be indicators that maybe a winner is being built. That's where the Jets defense seems to be after another not perfect but strong performance in the win over the Bears.
One leading metric for any team is points, scored and allowed. And right now, the Jets have become one of the stingiest scoring defenses in the league and in their history.
They have checked in at fourth in the league this week in allowing 17.8 points/game. It's their highest ranking in scoring defense since five consecutive weeks at No. 1 early in 2015, and their highest this late in the season since the 2009 team finished at No. 1 with a franchise-record 14.8 yards/game.
But beneath the surface, there's more. Over the last 10 weeks, the NFL's points-allowed leader is the Jets. In the last nine weeks, the leader is ... the Jets. Last eight weeks ... Jets. Last seven weeks .. .Jets. Last six weeks .. .Jets.
"That's great news," DL John Franklin-Myers said. "You just have to keep it going. We've got six games left. Shoot, we want to be No. 1, we've got six games left to prove it."
"I didn't know that," DL Quinnen Williams said. "But it's just Coach Brick [DC Jeff Ulbrich] calling the plays and we're going out there and executing. We just take it as a testament that we've got to continue to execute and stay consistent."
Ulbrich said the stats underscore the structure that's being built on the defensive side of the ball.
"I do feel like we have a group that, not only from a schematic standpoint is improving, but it's a group that's consistently devoted to the fundamentals of the game, which I think a lot of times can be lost in the NFL," Ulbrich said. "As you get more distance from the fundamentals and technique and you get more honed in on the scheme and the scheme gets better and tighter, the fundamentals start to regress a little bit. I feel we've devoted a good amount of attention to both and I think you're starting to see that on Sundays."
So in one quote graph, the coordinator said the Jets this year are very good and can get better still. In the total yardage rankings, the Jets are fifth, putting them on pace to be a top-10/top-5 team in both yards and points allowed for the first time since Rex Ryan's first two teams in 2009 and '10.
This is remarkable considering in the first year of the Robert Saleh/Ulbrich scheme, the defense struggled to 32nd rankings in both yards and points allowed. "We always had a belief," Ulbrich said, "even when it was dark last year at times."
And so the work is not done. More needs to be done to make this unit even stronger by regular season's end. Franklin-Myers agrees, calling it "a lot of meat left on the bone for us."
"We can talk about some of the sacks we missed, some miscommunications. Missed tackles is another thing," JFM said. "So everything is on us. We have to tighten some of that stuff up."
"I can't really point to one thing we can get better at as a team, but it's just individual," Williams said. "Each and every one of us knows the individual things we can get better at, the things we can do to take this team and this defense especially to a new level, with the small details we can do to get better. And I just feel like each and every one of us has bought into getting those things better."
There are no guarantees that the Jets' defensive numbers will continue to rise into the stratosphere. The Jets' final six opponents — at Minnesota and Buffalo, home for Detroit and Jacksonville, at Seattle and Miami — would be a test for the best defense. Those teams' average total-yards ranking is 8.5, their average scoring-offense rank is 9th, and their starting QBs have crispy combined passer rating of 98.1.
But the Jets have the numbers to match, at least after Week 12 and perhaps after Week 18 as well. Get out the Green & White popcorn. It should be a fun stretch run.
"I'd probably say this is the No. 1 overall defense I've played on," Franklin-Myers said. "I've never been part of a team that on all levels was just dominant. We do a good job of covering, getting after the quarterback, and the linebackers do a good job of running and hitting. I can't say anything negative about anybody on the defense or on the team. Definitely I can't think of a defense that's better."