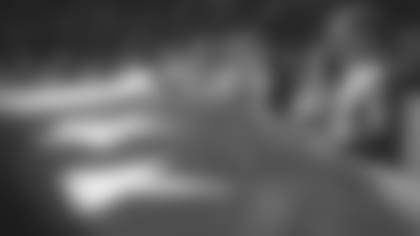 Beginning November 6th, the New York Jets will host Salute to Service Week leading up to their Week 10 matchup vs. the Giants. The week will be dedicated to honoring the men and women who serve in our nation's military and their families who serve along with them. The week, which features surprises for military families and an array of events for current and former military members, will culminate with the team's 20th annual Salute to Service Game at MetLife Stadium for Veterans Day weekend.
Wednesday, November 6th:
Salute to Service Practice Jerseys: The Jets will debut camouflage jerseys that will be worn by players as the team prepares for the Week 10 matchup. At the end of the week, the jerseys will be autographed and given to military members attending Saturday's walk-thru.
Thursday, November 7th– Saturday, November 9th:
Soldiers to Sidelines: The Jets will host 30 service members, including active duty, retired and veterans from all military branches, at the Atlantic Health Jets Training Center for a two-day coaching certification seminar. Attendees will participate in classroom work and field work in an effort to educate and empower them on how to become football coaches.
Soldiers to Sidelines provides training and opportunities for military members to be excellent coaches in various sports so they will inspire, motivate, and encourage athletes. They develop all branches of active duty, retired or wounded military members into coaches to work in cities throughout the United States through a simple staged process. www.soldierstosidelines.org.
Saturday, November 9th:
Service Members at Practice: 60 military members are invited for lunch and to attend a walk-thru practice at Atlantic Health Jets Training Center. After practice, the guests will be able to meet and greet with players. The camouflage jerseys, that the players wore throughout the week of practice, will be autographed and given out to those participating in Saturday's Salute to Service Flag Football game.
Salute to Service Flag Football Game: Succeeding practice, a flag football game will be held in the field house with 50 military members from both McGuire-Dix-Lakehurst and Fort Hamilton. All players participating will receive a custom Salute to Service jersey.
Sunday, November 10th:
Salute to Service Game: As part of the organization's long-time commitment to honoring our armed forces, the Jets will host their 20th annual Salute to Service Game at MetLife Stadium. From the parking lots to the field, the day will feature military personnel throughout the game presentation. The New York Jets Salute to Service game will include:
More than 500 complimentary tickets given to service members.
Prior to kickoff, the Black Daggers Parachute Team, a US Army Special Forces group from Fort Bragg will be jumping from a UH-60 helicopter during its flyover.
Pregame on-field enlistment ceremony for 75 future members of the armed forces will be conducted by the Secretary of Army.
Military service members will open the locker room doors and 50 service members will run out of the tunnel along with the team during introductions.
In formation behind the Joint Services Color Guard will be over 25 service members in period uniforms of the Armed Forces from most major conflicts in our Nation's history.
Master Sgt. Mary Kay Messenger will perform the National Anthem.
Military service members, along with Blue and Gold Star families, veterans and Solider to Sidelines participants will hold the American flag during the National Anthem.
50/50 raffle to benefit Stephen Siller Tunnel to Towers Foundation.
Two Medal of Honor recipients will be honored in the game.
During halftime, there will be a Salute to Service Field Goal Challenge and Steve Castleton, the Jets military liaison, will be sworn in as Civilian Aide to the Secretary of the Army.
Soldiers to Sidelines: Coaches will attend the Salute to Service game and a special Soldiers to Sidelines tailgate will be held prior to kickoff. Coaches will help hold the American flag during the National Anthem.