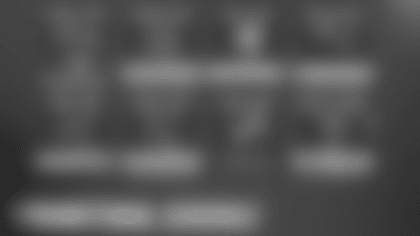 Today, the Jets announced their game initiatives and giveaway schedule for the 2022 regular season. Beginning with the 2022 regular season home opener on Sunday, September 11, Jets fan can expect to see a number of themed celebrations and giveaways throughout the season.
This season, the team will welcome three new members to its Ring of Honor: Nick Mangold on September 25, D'Brickashaw Ferguson on October 30 and Darrelle Revis on November 27. At each of these games, fans in attendance will receive a free Ticketmaster NFT, commemorating the Ring of Honor celebration. For a limited time, fans can purchase the Ring of Honor Mini-Plan to see all three games.
The schedule also features several league-wide initiatives including Crucial Catch presented by Atlantic Health System on October 9, Salute to Service on November 6 and Inspire Change on December 22. The team will also honor First Responders throughout the tri-state area at its December 22 matchup with Jacksonville, which will be the team's first Amazon Prime night game.
In addition, the Jets 50/50 raffle will return for the 2022 season. Fans can purchase raffle tickets throughout MetLife Stadium for a chance to split the raffle jackpot with a highlighted charity each game.
As previously announced, the team will debut all-new Stealth Black alternate helmets this season. Paired with the fan-favorite Stealth Black uniform, the team will wear the new combination at three home games – October 30, November 27 & December 22.
Tickets for the 2022 season are on sale now and can be purchased by visiting nyjets.com/tickets or by calling 1-800-469-5387. Discounts are available for groups of 10 or more at nyjets.com/groups and VIP luxury suites are available for an elevated gameday experience at nyjets.com/suites.
Full 2022 Regular Season Game Initiative & Giveaway Schedule
Sunday, September 11 vs. Baltimore Ravens at 1pm
2022 Regular Season Home Opener Free rally towel & commemorative Ticketmaster NFT ticket for all fans in attendance
Sunday, September 25 vs. Cincinnati Bengals at 1pm Presented by Pepsi
Nick Mangold Ring of Honor Celebration Free Ticketmaster Ring of Honor NFT for all fans in attendance
Sunday, October 9 vs. Miami Dolphins at 1pm Presented by Atlantic Health System
2022 Crucial Catch
Sunday, October 30 vs. New England Patriots at 1pm
D'Brickashaw Ferguson Ring of Honor Celebration Free Ticketmaster Ring of Honor NFT for all fans in attendance
Sunday, November 6 vs. Buffalo Bills at 1pm Presented by Verizon
Salute to Service
Sunday, November 27 vs. Chicago Bears at 1pm Presented by JetBlue
Darrelle Revis Ring of Honor Celebration Free Ticketmaster Ring of Honor NFT for all fans in attendance
Sunday, December 18 vs. Detroit Lions at 1pm
High School Football Day
Thursday, December 22 vs. Jacksonville Jaguars at 8:15pm Presented by Quidel
Inspire Change & First Responders Night Free Stealth Black rally towel for all fans in attendance