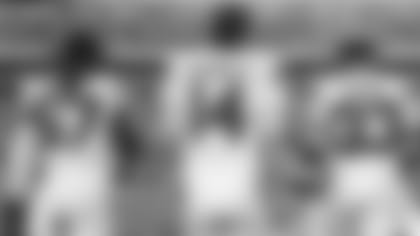 Following a player vote, the Jets have elected six team captains for the 2019 season — S Jamal Adams, LT Kelvin Beachum, QB Sam Darnold, DT Steve McLendon, S Rontez Miles and LB C.J. Mosley.
"It's interesting to kind of go through that whole voting process," head coach Adam Gase told reporters before Wednesday's practice. "Those guys were clear-cut guys that were at the top. It shows the leadership strength that we have in this locker room."
McLendon and Adams return as the Green & White defensive captains along with Mosley, who is in his first year with the team.
"Jamal always brings the energy, he's always going to have his guys right in the back end," OLB Jordan Jenkins said. "Up front, honestly, Steve is the embodiment of what the defense is. We're all aggressive, we bring a lunchpail mentality. He's not just a leader in the D-line room but the defense overall. Everyone looks up to him and C.J. as well. C.J. is more a lead-by-example type of guy, but when he speaks up, it's time to dial the hell in and listen up."
Miles, the Jets' special-teams leader, received high praise from Gase, who said the five-year veteran does everything right and loves the pride he takes in teams.
"I think the thing that I've been most impressed with him is when we first got here, one of the conversations that not only myself, but the defensive coaches and Brant (Boyer) had, we wanted him to put himself in a position to be a guy on defense we can count on as well, and I think he's done that," Gase said. "He did a great job of working his way into that starter spot when Marcus (Maye) was down. There's a lot of confidence in him if he had to go into a game as far as being able to function at the safety role. So, I think he's really put a lot of work in to be a better player in that area."
Darnold, who is entering his second pro season, and Beachum, an eight-year veteran in his third year with the team, are first-time Jets captains.