2009 Flight Crew Final Audition Photos


After a day of dancing, cheerleading, competing and judging at Pacha NYC today, the New York Jets Flight Crew are inviting 30 young women to Flight Crew training camp this summer.
"I am very happy with the new squad," said Denise Garvey, in her third year as director of the squad. "It was important to me for the Flight Crew to grow and develop as a stronger cheerleading squad right from the very beginning of the 2009 season and I believe we are doing just that. The look of the team has developed into a glamorous group of young women."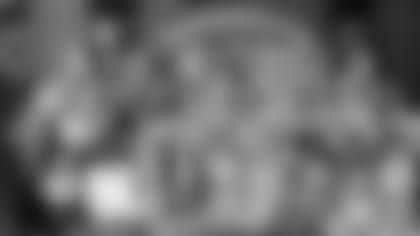 Fifteen of the 30 finalists selected by Garvey and a celebrity panel of judges were on last year's Flight Crew. All 30 selected following the very competitive final round will be participating in Crew appearances and activities from now until the start of the camp June 1.
Here are the 30 finalists who are on the 2009 New York Jets Flight Crew, listed alphabetically by first name:
| | | | |
| --- | --- | --- | --- |
| Finalist | Hometown | Finalist | Hometown |
| Amanda C. | Dunellen, NJ | Laura V. | Wantagh, NY |
| Amanda P. | New York, NY | Lauren P. | Staten Island, NY |
| Anne-Marie A. | Smithtown, NY | Lauren Z. | Ridgefield, CT |
| Ashley G. | Clifton, NJ | Linda W. | Massapequa, NY |
| Christie A. | Fair Lawn, NJ | Mandisa N. | Jersey City, NJ |
| Danielle B. | Holbrook, NY | Meredith G. | Medford, NY |
| Danielle C. | Monroe, NJ | Michele R. | Glendale, NY |
| Gina G. | Kings Park, NY | Michelle L. | New York, NY |
| Jacqueline N. | Clifton, NJ | Mimi K. | New York, NY |
| Jasmine G. | Maplewood, NJ | Natalie F. | Aberdeen, NJ |
| Jennifer S. | Bellport, NY | Nicole P. | Saddle Brook, NJ |
| Jessica M. | New York, NY | Ryann M. | Massapequa, NY |
| Jessica S. | Iselin, NJ | Samantha C. | Staten Island, NY |
| Justine D. | Northport, NY | Samantha L. | Norwalk, CT |
| Laura D. | Bloomfield, NJ | Tia T. | Jackson, NJ |
"Today I was looking for attractive and talented entertainers — they must be fun to watch!" Garvey said. "I call the Meadowlands our 'theater in the round' and they need to be able to entertain on that stage. The audience is huge at 80,000 fans and so their presence must, in turn, also be huge."
Assisting Garvey in the selection process were Jets safety Kerry Rhodes, singer Lilian Garcia, entertainer Donnie Klang, SNY Jets reporter Steve Overmyer, CBS Sports reporter Sam Ryan, and E! film critic Ben Lyons Overmyer will file a Radar entry on his day of judging the Flight Crew that will be on newyorkjets.com Sunday morning.
"I am looking forward to taking the Flight Crew to new heights in 2009," Garvey said, "and it seems like we truly are ready for takeoff in year three."